Grey and MCSC win CASSIES Grand Prix
The agency and the Missing Children Society also picked up two Golds at tonight's award show. Read about all the winners here.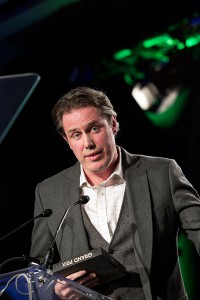 It was a big night for Grey Canada and the Missing Children Society of Canada, which walked away with two Golds and the Grand Prix honours at this year's CASSIES awards, presented at the Hilton Toronto.
The duo added to their growing collection of hardware for the "Milk Carton 2.0″ campaign launched in 2012, which also nabbed honours at Cannes and the ADCC.
Joining the pair as multi-Gold winners are McDonald's and Tribal Worldwide, which picked up two Golds for its "Our Food. Your Questions." campaign, as well at the Globe and Mail Creative Effectiveness Prize.
Kokanee and Grip also picked up two Gold awards for the The Movie Out Here, while Taxi and Kraft's Mio won two for the brand's launch efforts. Taxi also picked up a Gold for its work with Koodo in the Sustained Success category, as well as three Bronzes for clients including Telus, Boston Pizza and Canadian Tire.
Other Gold winners included Anomaly and Budweiser for the "Red Lights" campaign; Leo Burnett and Earls for the restaurant's "Lobster Event" promotion; DentsuBos and Iögo for the brand's launch campaign; Saatchi & Saatchi and the Tourette Syndrome Foundation of Canada for "Surrender Your Say"; and Sid Lee and Videotron for "Pranked Technicians."
Other notable winners of the evening include Bleublancrouge and John St., which each picked up two Silvers; DDB, which picked up a Silver and three Bronzes; and Ariad Communication and Bensimon Byrne, which walked away with two Bronzes apiece.
Check out the complete case study list below.
Grand Prix
Grey Canada and Missing Children Society's next-gen milk carton
Gold:
Anomaly and Budweiser put on the Red Lights
Leo Burnett and Earls bring lobster to the masses
Saatchi & Saatchi and TSFC take over Twitter
Sid Lee and Videotron pranks its technicians
Tribal Worldwide and McDonald's disarms its detractors
Taxi and Mio get through to millennials
Taxi and Koodo's branding keeps on winning
Silver
Agency 59 and Heart and Stroke's zombies save lives
DDB and Toronto Jewish Film Festival flip perception
Bleublancrouge and Rouge FM transforms the radio station
Lg2 and Quebec City reconsider the bus
John St. and Carly's Café give autism a voice
Cossette makes Home Depot "beau" in Quebec
Nolin BBDO gives chocolate milk a makeover in Quebec
John St. and SpongeTowels soak up sales growth
Bronze
BBDO and Mountain Dew keep the momentum going
Bensimon Byrne and Scotiabank take fans to the movies
Leo Burnett and Ikea beat their Moving Day record
Sid Lee and Sport Chek celebrate Mother's Day
Taxi and Canadian Tire get fresh with air filters
Taxi and Boston Pizza's epic Pizzaburger launch
Ariad Communications and Knorr answer the eternal question
Zulu Alpha Kilo and Corona's high life
Bensimon Byrne and Jackson-Triggs have a wine for that
We Are Tonic helps Lake of Bays expands its footprint
Lowe Roche and HSF target apathetic boomers
Juniper Park helps Del Monte re-establishes its quality credentials
Photo by Ryan Walker (Ryanwalkerphoto.ca)