(Still) intimate and interactive: MuchMusic at 30
A tribute to MuchMusic's 30-year tradition of media innovation and reinvention.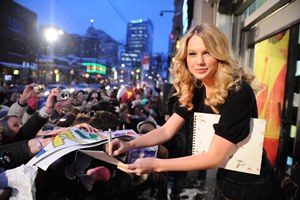 Media in Canada's sister publication Playback pays tribute to MuchMusic's 30th anniversary.
It's June 16, 2013 and Taylor Swift is walking the red carpet at the MuchMusic Video Awards in Toronto in strappy heels and a body-hugging black and white dress.
Also performing songs and picking up awards at the Canadian TV channel's annual music spectacle were American Idol winner Phillip Phillips, Aussie heartthrob Cody Simpson, Demi Lovato, and Avril Lavigne with her fiancé, Nickelback singer Chad Kroeger. All the while, MMVA host Psy showboated with his signature dance moves.
"It's a unique offering. Anyone can come," Justin Stockman, executive director of specialty channels at Bell Media, says of the MMVAs. Anyone, that is, willing to camp out outside Much's studio for a much-coveted wristband. "No one needs to buy a ticket [and] you can see the biggest stars in the world," Stockman adds.
The MMVAs may ostensibly be about music awards, but the iconic Canadian TV brand is also taking its best shot at engaging viewers in a kaleidoscopic entertainment culture where broadcasters increasingly get their biggest audiences with live events viewed on multiple platforms.
After all, illegal downloading, streaming and bit torrent sites, as well as YouTube, Vevo and Pandora have long prompted young Canadians to hit the internet and social media to consume online music programming and connect with artists.
So to capture those viewers back, the MMVAs can these days be experienced via the TV broadcast, blog posts, mobile integration or social media like Facebook comments, Twitter chat and Instagram.
The goal is continuing a tradition of interactivity and innovation to create a unique brand of entertainment, which began April 2, 1984 when MuchMusic first went on air with Rush's "The Enemy Within."
The channel launched with non-stop music video play because MuchMusic had the rock industry's promotional films for Madonna, David Bowie and Human League all to itself well before the internet age.
Three decades later, it is easy to look back on the upstart channel with its captive audience and see it as having to run on little more than autopilot in its early years.
Far from it. While MuchMusic arrived on the dial to serve up music videos, viewers could just as easily flip in and out of them, waiting for their favourites while channel surfing. But programmers needed viewers to stay on MuchMusic for 15 minutes to have a ratings point register.
"Even before the internet, the idea that we had to offer something besides the music video was there because we knew our ratings were higher than they were, they just weren't being registered because people were coming in and out," Stockman recalls.
Needing to manufacture its own audience-sticky solutions – beyond a reliance on core music clip content – may well be the secret of Much's brand longevity.
The channel was interactive long before the internet entered mainstream culture. Fans could phone in with video choices, mail in a request poster or go to Speaker's Corner and leave a taped comment. MuchMusic's studio opened onto Queen Street in Toronto, so the audience was always part of the show.
Creating sticky viewer engagement also led early on to Much's adoption of the video jockey, or VJ, an on-air host offering music industry news, gossip and concert information to keep audiences tuned in during music video interludes.
And MuchMusic curated videos around shows like Pepsi's Power Hour, RapCity, the live event dance show Electric Circus and the weekly concert series, The Big Ticket.
Years before the concept of a street-front studio spread throughout the North American broadcast scene, MuchMusic was making a name for itself being intimate and interactive with fans as music videos went mainstream. The channel's then-fresh approach garnered audiences around the world via international satellite feeds and, eventually, its website. Much's format was even licensed internationally to places like the Czech Republic.
As the MuchMusic brand evolved and occasionally reinvented itself, it expanded to include sister channels and offshoots like MusiquePlus, the French language counterpart launched in 1986, MuchVIBE and MuchLOUD, both popular genre-specific shows becoming standalone channels, and MuchMoreMusic, which would later become MuchMore and is now M3.
"That was us flexing our muscles and seeing how big we could get. Of course, to everyone else today, it's second nature," says Mark Swierszcz, director of digital for MuchMusic.
Eventually, the Canadian teen lifestyle brand evolved from pure-video play to becoming a pop culture brand, adding reality, comedy, drama, movies and other scripted series to its music video offerings.
The aim was to keep MuchMusic in touch with its core demo as young Canadians increasingly viewed music videos on second, third and even fourth screens in an on-demand world.
The cross-platform transition was just starting when MuchMusic launched its MuchMusic.com website in 1995.
The rationale at the time was simple: if you have a youth-skewing TV channel, and young people were first to embrace the internet, as a broadcaster you need to follow fans online.
"We weren't part of a big company then, just a couple guys in a room. So we tried to construct a website and it worked," Stockman recalled.
Early message boards brought MuchMusic's interactive mandate to a new level, as did adding ad banners and tracking codes to create a sellable product.
In 2000, MuchMusic.com debuted its first online music video, Madonna's "Music" single.
"[Warner Music Group] was doing a worldwide digital push, and was looking to get [the video] placed, so MuchMusic did an online premiere," Swierszcz recalls.
Other brand innovations followed: MuchMusic ring tones, the Big Shiny Tunes album series, and partnerships with AOL Canada to air original unplugged concerts by Bjork or the Foo Fighters on its portal.
In this era, Much also launched what would become its flagship interactive reality series, the VJ Search. First airing in 1995, VJ Search invited viewers to contest for a much-coveted spot on air by submitting audition tapes, the best of which would be played on-air and a winner selected by fan voting (via calls and eventually texts) and a panel of judges.
The series followed reality TV's evolution, becoming a 10-episode reality show in 2006, incorporating online fan voting, streaming and celebrity judges in 2009, and in 2013, a cross-country bus tour and reality show that culminated in a Much studio campout and fully interactive fan-driven popularity contest.
But before VJ Search offered fans a chance to be a part of the action, MuchMusic's successful Intimate and Interactive-branded concert series was launched in 1997 with a live No Doubt performance. After the concerts, artists would often carve out 15 minutes to chat online with their fans, with a MuchMusic technician typing into their answers to questions.
"I typed for Marilyn Manson. It was one of my first jobs here," Stockman recalls.
Keeping the MuchMusic brand fresh needs constant innovation, but the channel also has also worked hard to achieve consistency in its voice and approach. This became more critical as music videos started to migrate to major online destinations like YouTube and Vevo, and Much had to fight harder to remain "the nation's music station."
So while its on-air VJs kept coming and going, MuchMusic strived for a consistent voice online, especially on blogs and social media, to keep in tune with the latest music and artist trends.
That style calls for the use of LOLs, winky faces and other emoticons to allow MuchMusic bloggers to converse with fans online as they speak or text in real life.
"It sort of works when you have that digital property and you can be there for the audience in the way they're talking to each other," Stockman says.
That consistency, he adds, is key when MuchMusic TV viewers routinely shift to second and third screens for social conversations.
The rub is, despite vast changes in the media consumption habits of young Canadians and Much's attempts to keep up, the CRTC has compelled the Bell Media-owned brand to keep airing music videos as a condition of licence even as its target audience goes elsewhere for content.
"We're the only channel that was mandated to air 50% content that our users could get for free elsewhere," Swierszcz insists.
That includes music video content the rights to which MuchMusic can't lock up, and content the channel can't geo-gate or tear down if it ends up on YouTube.
The CRTC in 2010 denied a request by MuchMusic to air fewer music videos and reposition itself with more entertainment fare like Gossip Girl, The Hills and Degrassi due to reduced TV viewership.
The regulator said no to including up to 25% "lifestyle programming" in MuchMusic's schedule, and to changing the number of music videos that air in the broadcast week.
So MuchMusic's brand positioning remains as a music-based specialty channel, now at 50% music-video programming.
To accommodate its regulatory mandate, the channel increasingly airs music videos in commercial breaks, or as short clips teasing to longer online content, and to airing more videos in off-peak hours.
In primetime, that leaves more space for long-form content like Degrassi and other scripted series and reality shows. MuchMusic also continues creating shows around videos to retain viewers.
"We've found a way to make it work by creating shows around the videos to get viewers," Stockman says, citing shows such as The Countdown and Video on Trial.
Another example of Much's attempts to accommodate the radical shift in young people's relationship to music videos has been increased partnerships with marketers looking to connect with Much's still-sought-after young demo, in more high-tech ways.
In partnership with Microsoft, the MMVAs were streamed online in HD for the first time in 2010 from six user-selected camera angles.
One angle came via a Nokia smartphone held by a MuchMusic crew member on the red carpet that used QuickPlay software.
Also that year, fans could vote for the MMVAs on Facebook, where MuchMusic has 1.3 million friends, the most of any brand in Canada; American Idol followed with Facebook voting a year later in 2012.
And 2013 saw MuchMusic launch an audience loyalty program, MuchCloser, which has 200,000 members to date and offers rewards like concert tickets, meeting celebrities, exclusive online chats and event access. More significantly, MuchCloser also offers the channel key insights for more precise audience tracking.
"The insights we get from MuchCloser allow us to know so much more about our audience than 10 or 20 years ago. We know what they're viewing and sharing and what's doing well online," Stockman says.
Better audience insights and targeting also enable the MuchMusic brand to more effectively tailor its voice for fans.
"The idea of having a generic voice is no longer something that people want. They want to be talked to directly," Swierszcz argues.
The MuchMusic brand also has around 500,000 Twitter followers, and targets them before and during live events with specific hashtags, tune-in reminders and live tweeting.
"We continue to fulfill the idea of being interactive and in touch with our audience, and social media is the best way to do that," Swierszcz explains.
With Facebook, that may mean sharing a comic photo or making pop culture references or comments, and all the while shying away from direct promotion.
"Whether fans come to our site or decide to watch our channel, if they're connected with our brand, it will pay off somehow with more audience engagement and brand building," Stockman says.
Image of Taylor Swift at the 2013 MMVAs is courtesy of Bell Media
From Playback Daily