BeIN Sports Canada launches
The international sports network that airs La Liga, Serie A and Ligue 1 soccer is now available to Bell, Rogers and MTS customers.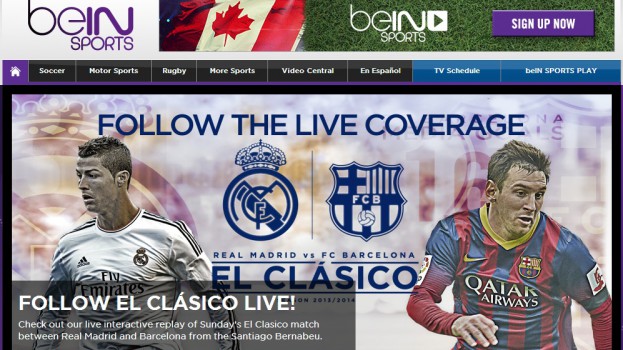 Ethnic Channels Group has launched specialty sports channel beIN Sports for availability in Canada. The channel is now available as an add-on paid service to Rogers and Bell TV customers across the country and has been available to MTS subscribers in the Winnipeg area since Feb. 2014. The network launched in the US and France in August 2012.
The channel will feature soccer coverage of international leagues La Liga, Serie A, and Ligue 1 where globally recognizable players such as Cristiano Ronaldo, Lionel Messi and Mario Balotelli play, as well as Russian Premier League and Football Premiership games. In addition to soccer, beIN Sports will also cover tennis, rugby and motor sports from around the world.
"The network has enjoyed great success in the US and around the world because of its comprehensive coverage of soccer as well as other sports. The sports the network covers are not typically shown on Canadian sports networks, so we expect to see some great interest from Canadian fans," a network spokesperson tells MiC.
The launch is being promoted by a digital and mobile display campaign running on soccer-focused websites and select newspapers across the country.
The network is also launching beIN Sports Play Canada, an online subscription streaming service compatible on desktop, tablet and smartphone, with a 30-day pass going for $19.95.