Sportsnet unveils cross-platform Blue Jays coverage
The Rogers sports brand will be covering the team on TV, radio, online and in print, as Boston Pizza expands its sponsorship.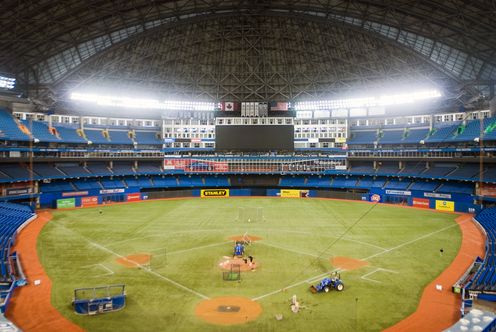 Sportsnet has unveiled its multi-platform coverage plans for the 2014 Toronto Blue Jays season.
In addition to covering all 162 regular season Blue Jays games on Sportsnet, the Rogers-owned sports outlet has complementary coverage planned for television, radio, online and print.
On Sportsnet, Connected airs every weekday at 6 p.m. with host Hazel Mae, followed by a game preview on Blue Jays Central with Jamie Campbell and Gregg Zaun. After each game Jays in 30 offers a 30-minute condensed recap.
Sportsnet 590 the Fan has exclusive radio broadcast rights for Blue Jays games, with each game to be followed by Blue Jays Talk where Mike Wilner recaps the action and takes calls from fans. Baseball Central with Jeff Blair airs weekdays at 11 a.m. from March 31 to June 27 and moves to noon starting June 30 through the end of the season. The MLB news show is simulcast on Sportsnet East (Maritimes, Quebec and a sliver of eastern Ontario including Ottawa) and Sportsnet Ontario. Outside Toronto, 70 Blue Jays games will be broadcast on Sportsnet 960 The Fan in Calgary and all 162 games will be simulcast on 1310News in Ottawa.
Sportsnet.ca will host news, features, columns and in-game chats, as well as Blue Jays Blog, a new feature that will gather all Blue Jays content in one place on the site. The Sportsnet mobile app, available on iOS, Android and BlackBerry 10, offers customizable real-time alerts for in-game moments like runs scored or home runs. Viewers can also stream Blue Jays games on Rogers Anyplace TV with a Sportsnet subscription.
Sportsnet magazine has published an MLB preview issue and will put out a Blue Jays preview issue March 27, as well as features and profiles to run throughout the season.
Anthony Attard, VP sales, Sportsnet, tells MiC that among the existing roster of sponsors, Boston Pizza has expanded its presence this year with its sponsorship of the Junior Jays program targeting families and young children. In addition to having kids running the bases after Saturday afternoon home games, one lucky Jays fan will be able to join the broadcast team in the booth and help call the game.
Acer is joining the roster of advertising partners, sponsoring the pitch speed tracker on the TV broadcast, says Attard, joining Honda, TD, Home Hardware, WestJet and Boston Pizza.
Attard says that Blue Jays baseball in Canada skews closer to a 50-50 male-female split than all other sports. He adds that Sportsnet's coverage of the team has a national scope because the Jays are the only Canadian MLB team, especially attractive in the summer when hockey, basketball and NFL football are in the off-season.
Image courtesy of Joyce Vincent / Shutterstock.com