Metro gets augmented
The free daily is adding AR to its editorial pages starting today, with advertising options to follow around May.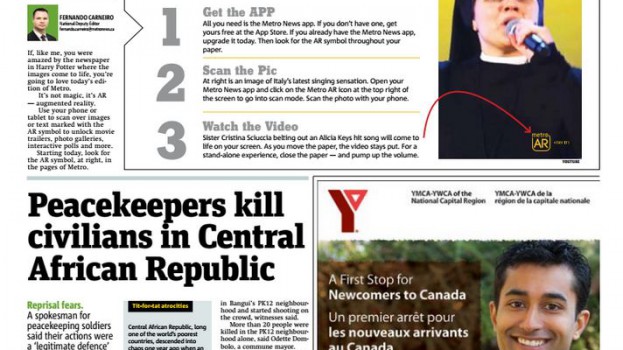 Star Media Group-owned Metro is adding augmented reality elements to its editorial pages across Canada, starting today.
Robyn Payne, director of marketing and research, Metro English Canada, tells MiC that the goal of adding augmented reality to the daily's print pages is to bridge the gap between the paper and digital copies of the title. Users wishing to access augmented reality pieces of Metro will need to have the paper's app, but won't need other third-party apps like Layar to view the additional content.
Payne says there will be augmented reality elements, such as slideshows and videos, in each section of the paper starting on Monday. Jeff Smith, VP of creative at Metro cites the example of movie critic Richard Crouse extending a print review with a celebrity interview on the app.
Advertising opportunities that include augmented reality will open to clients starting in May, with Smith saying the sky is the limit in terms of possibilities, from videos to 3D additions to print ads.
Augmented reality has been tested by other Canadian papers on a one-off basis, such as Metro-sister publication the Toronto Star's partnership with Nissan Canada for a "Go Beyond" project that included 30 pages of interactive content in an issue last fall.
The print version of Metro is available in 11 cities across Canada: Toronto, Ottawa, Vancouver, Calgary, Edmonton, Halifax, Winnipeg, Saskatoon, Regina and London.