Bell Media's MMVA strategy
By simulcasting the 25th edition of the annual award show on CTV, the media co hopes to ultimately drive viewers back to Much.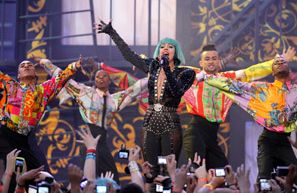 Earlier this week, Bell Media announced that in addition to airing on its specialty home Much, the 25th edition of the Much Music Video Awards would be simulcast on CTV for the first time. The annual awards show, which takes over the stretch of Queen St. West outside Bell Media's downtown Toronto headquarters Sunday June 15 at 9 p.m. ET, will also stream on the CTV Go app for authenticated viewers.
Justin Stockman, VP specialty channels, Bell Media, tells MiC that in addition to celebrating the milestone anniversary, simulcasting the MMVAs on both networks is part of Bell Media's overall strategy to showcase its original specialty programming on conventional to drive viewers back to specialty. The media co has pulled similar programming stunts recently with Bravo's 19-2 as well as Space's Bitten and Orphan Black.
The target audience remains Much's traditional 12-to-34 demographic, though Stockman says he expects being on CTV will increase the overall P2+ audience. Ads will be the same on both channels and branding opportunities largely resemble what has been offered in past years, with Stockman saying that the main advantage to sponsors would be on the extended reach and reaping the benefit of Much's boosted profile.
"The numbers on Much were already so huge, this is a bonus [for sponsors]," he says. "When the show was only on Much it was already a premium offering."
Stockman wouldn't comment on pricing, but did say that the show is almost sold out of inventory. Sponsors will be announced closer to the event.
Last year, 743,000 viewers tuned in to Much to see Psy host the 2013 MMVAs.