The Grid's strategic update
The free weekly is trimming its size and adding more news content beginning with this week's edition.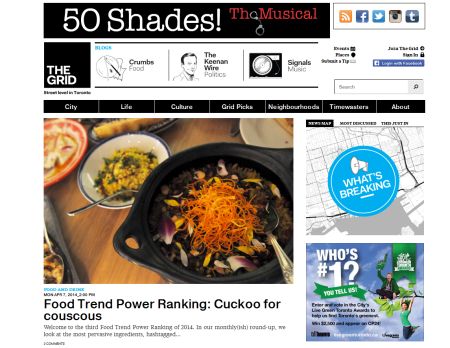 Toronto-based The Grid, which launched three years ago this spring is updating its size, content and distribution strategy to better reach its target audience of adults aged 18 to 34.
Laas Turnbull, publisher and editor-in-chief of The Grid, tells MiC that the reason for the update, which will see the free weekly lose two inches off the right hand side of its paper (making it 9.5 x 12.5), is to look and feel more like an oversized magazine than a "alternative news weekly."
"We have been desperately trying to distance ourselves from the category of alternative news weekly," he says. "When people see something kind of tabloid-y and printed on newsprint then that is where their mind automatically goes. We want to set ourselves up as more of a weekly city news magazine, which is sort of how we have always looked at ourselves."
Turnbull says the updates to the title will be leaving its award-winning design elements intact, but will add more "hyper-local" news coverage as well as targeted arts and entertainment coverage by collapsing its culture and listings sections into a new back-of-book piece called The List.
The new packaged section will feature "Grid Picks" that will detail the events and locations that will be most interesting to readers in the coming week, says Turnbull.
Turnbull says The Grid will be making a concerted effort to top up pick-up locations of its paper around the downtown area, as there are more condos in places like Liberty Village now than there were when the title launched three years ago, and copies are quickly depleted in those areas where the title's core demographic is likely to dwell.
Next to its printed product, Turnbull says The Grid makes the most revenue off its event slate (Burger Week and Cocktail Week), which will be growing by two new additions in 2014, one in the summer and one coming up this fall. Turnbull adds that events are a way to bring money in by working around shrinking print media budgets and going directly to clients and accessing experiential and promotional budgets, which are growing.
That added event revenue is necessary to supplement a sluggish start to budgets from national advertising clients the paper works with, something Turnbull says is being felt at print titles pretty well across the board so far in 2014.
 The Grid has a circulation of 70,000 and is distributed for free each Thursday.