Canada takes two at Festival of Media Awards
UM and Touche! PHD both took prizes at the ceremony last night in Rome.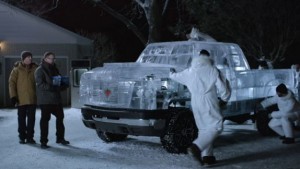 Last night Canadian agencies won two prizes at the Festival of Media Awards in Rome.
UM took Gold in Best Event/Experiential Campaign for its "Red Light" project for Budweiser. The campaign brought the goal-scoring hockey experience to Canadian living rooms and aimed to bolster the beer brand against the NHL's official beer sponsor, Molson. The campaign has since been expanded to also include a Zeppelin-sized activation, which is touring Canada.
Taking Silver in that category was Touché! PHD for its Canadian Tire "Ice Truck" campaign. The spot saw the company make a vehicle out of ice and tour the streets of Hensall, ON to put the brand's Motomaster Eliminator battery to the test. The project also recently took Gold at the Internationalist Awards in New York City.
Agency Network of the Year at the Festival of Media went to Starcom MediaVest Group, with UM Australia taking Agency of the Year.
Weren't able to make it to Rome? Check out Deborah Hall's post on the trends of the week.