Rogers Media paints dire picture of conventional TV
Rogers Media president Keith Pelley told CRTC regulators Tuesday that he wants "flexibility" to ensure the OMNI stations remain competitive in a fast-changing digital landscape.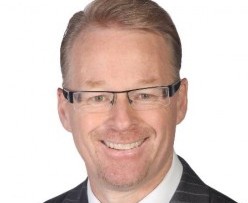 Rogers Media president Keith Pelley told the CRTC Tuesday that Canadian conventional TV's financial problems are more dire than ever, and will continue to suffer until the regulator gives TV channels sought-after flexibility.
"Some of the trends and shifts I have witnessed over the last couple of years I would have never imagined possible. Just like Blockbuster was wiped out by online VOD, there is a very real risk that OTA TV will become obsolete," Pelley told the CRTC.
He was addressing regulators during hearings into licence renewals for 17 Rogers-owned TV services, including City and Sportsnet.
Pelley said that, since acquiring the City stations in 2007, Rogers Media has rung up losses of $238 million.
"Last year it became pretty clear that we needed to do things differently or we would continue to see a steady decline in City's profitability," he told the CRTC.
He argued fortunes at the City network could be salvaged by acquiring NHL hockey.
The recent $5.2 billion, 12-year rights deal with the NHL for exclusive Canadian broadcast rights promises benefits to City in terms of promotion, revenue, "and perhaps more importantly a chance to reduce our reliance on US programming," Pelley said.
It's the same dire picture at OMNI, which is also in crisis, he added.
"Let me be clear, OMNI is not a viable business unless something can be done to reverse its financial situation," Pelley told the CRTC.
He said OMNI's revenues have slid from $80 million in 2011 to under $35 million this year.
The cause of the secular decline: US network series aren't the money spinners they once were in the emerging digital age.
American programming is widely available on specialty channels and over-the-top digital platforms like Netflix.
So OMNI's revenue from re-runs of US shows has declined markedly by $40 million, or 60%, since 2011.
The upshot is that Pelley called for "flexibility" in content requirements to allow OMNI to restore its competitiveness.
That includes reducing the number of ethnic communities that OMNI stations cover, and a call for ethnic language newscasts to migrate online, to where consumers increasingly get breaking news coverage.
From Playback Daily