CBC topper Hubert Lacroix on doing less with less
The pubcaster's president and CEO broke down the cuts in a conference call, with 62 people losing jobs in sales and revenue.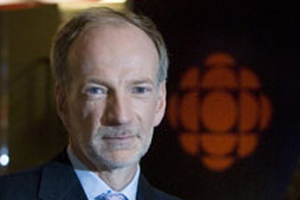 Top CBC brass on Thursday afternoon laid out how the pubcaster will do less with less after unveiling yet another round of cost cutting to balance its books for 2014-15.
CBC president and CEO Hubert Lacroix and Heather Conway, EVP of English services, told a media conference call that the network's woes, which includes cutting 657 jobs to reduce a $130 million budgetary shortfall, were not all about hockey.
"The public broadcaster is starting to make choices because it doesn't frankly have a choice anymore," Lacroix said, putting the pubcaster's financial future in stark terms.
The CBC president underlined how his network was getting out of the pro sport rights bidding business, a move that follows the loss of NHL revenue from next season. But it is also cutting costs to maintain a presence for the CBC in the regions, Lacroix argued.
He said the CBC had to change the way it delivers content nationwide, and at what cost, "because right now the revenue line doesn't support the infrastructure we have."
The result will be a "smaller, more focused, more agile public broadcaster," he added.
For Conway, the architect of the CBC's primetime schedule, big changes are on the way.
The CBC signaled it will need to bump up ratings for its 25-to-54 demo, or face yet more cost cutting in a year's time.
To avoid that crunch, the CBC will continue to rely on returning hits like Heartland, Murdoch Mysteries and The Rick Mercer Report.
"Those are not leaving the schedule," Conway said.
The pubcaster will also look to more comedies like the Eugene Levy-starrer Schitt's Creek, and will air more repeats and shows from the CBC's programming vault, as Conway talked about a "nostalgia wheel" as one option to fill airtime.
The CBC will also no longer be doing big-budget, "shiny floor, elimination" shows.
"When you're going to take some risks with this stuff, you can't blow your brains out with hugely expensive shows," Conway argued.
Instead, the CBC will look to lower-budget formats that don't require it to bet the farm.
"We're going to do some unscripted shows that aren't necessarily the kinds of things that everyone else is doing," Conway said.
Back to sports, the CBC will continue to air Hockey Night in Canada on Saturday nights, but secure no revenue as Rogers Media runs the show after winning the NHL rights nationwide as part of a $5.2 billion rights deal.
The pubcaster will continue to pursue rights to sporting events like the Olympics, the Pan Am Games and The Commonwealth Games because it has a feasible model where it can partner with other broadcasters to share risk and resources.
The CBC will also cover amateur sports only if it can break even on the effort.
"The future of (CBC) Sports will look like a much slimmed down version of what it was," Conway told the conference call.
That will mean a CBC Sports department of around 90 employees currently will lose 38 positions that are unrelated to hockey.
In all, 334 jobs will be lost from the CBC's English-language services over the next two years: 234 of those jobs at the network level, and 100 supporting regional coverage.
Another 62 jobs will come out of revenue and sales operation, as the CBC combines its French and English sales groups.
Elsewhere, 38 jobs will be lost from media operations and technology, and another 34 jobs will be cut from communications and marketing, some of which are related to hockey.
And there are 115 jobs coming out of news and regional centers, and 12 more jobs being cut from radio and music.
From Playback Daily