Tangerine goes for broke with media buy
With its biggest media buy to date, the financial institution is set to reintroduce itself to Canadians since changing its name from ING.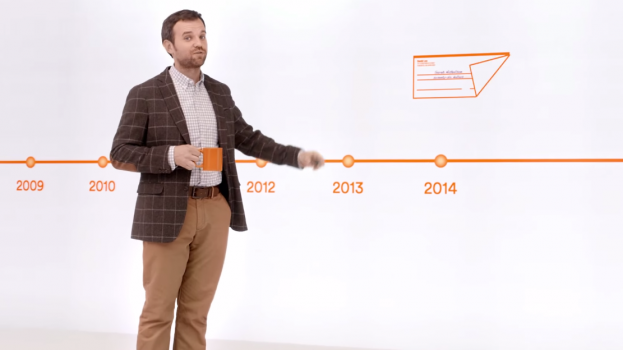 Scotia-owned Tangerine – the recently renamed ING bank – has come out swinging, with the biggest media buy since the company's inception in Canada 17 years ago.
To introduce the new brand to Canadian consumers, at the end of this month it will unveil a new TV spot focused on its simplicity. Creative from John St. revolves around math problems we might have struggled with as children (i.e. a train travels X speed in one direction, and another approaches from the other direction at Y speed, when do they meet?) with the solution revolving around simple banking opportunities at Tangerine. It follows a relatively straightforward campaign featuring a new spokesman, introducing Canadians to the new bank, which is currently in market.
The media spend for the launch is the largest for company to date (even while called ING), with a 70% higher TV weight than previous spots, Andrew Zimakas, chief marketing officer, Tangerine, tells MiC. The media buy, handled by Initiative, will cost in the multi-millions, though Zimakas declined to get specific.
The TV push will be supported by OOH, including banners and transit takeovers in major urban markets, while print will provide more detailed information for potential new consumers.
The ING brand had traditionally been well-represented and well-received in the major centres (Toronto, Montreal, Calgary, Vancouver), he says, and the brand saw the re-naming as a chance to really delve into other communities, such as Halifax, Moncton and Saskatoon.
Also included in the media buy will be NHL arena ads, a takeover of NHL.ca, as well as in-cinema spots. Digitally, contextual pre-roll ads, from Toronto-based agency Dashboard, will be placed in front of content-relevant YouTube ads, he says, supported by contextually relevant search results.
The campaign targets an attitude, rather than a specific age or gender demographic, explains Zimakas. It tends to go after people already banking online, who are technology friendly – people the brand calls "Hyper Direct." It will run between eight and 12 weeks, depending on the medium, and will be followed by similarly-themed spots that focus on customer experience, products, service, etc. These follow-up spots will be in rotation for the rest of the year.