Globe and Mail launches pilot native ad program
Andrew Saunders, chief revenue officer, talks about the project, which is running in partnership with GE.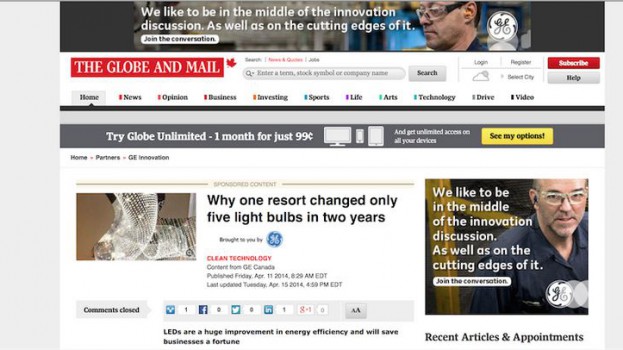 The Globe and Mail has launched a pilot native advertising program in partnership with GE with work from its agencies MEC and Matchstick.
With Polar's MediaVoice platform placing the ads in contextually relevant news feeds, the program features content running on certain ROB and World News article pages on the newspaper's website.
Native advertising articles will be labelled as "sponsored content" and will be surrounded by a shaded yellow background and use a different font than the one usually used by the Globe.
Andrew Saunders, chief revenue officer at the Globe and Mail, tells MiC that the newspaper has offered content marketing for years, but says it was previously located on the right-hand rail online and now is integrated into the main feed of the site.
"This program is a good opportunity for brands who also want to become publishers," he says.
Saunders adds that the paper is also keeping a close eye on the data side of the program, whether visitors are coming to the native ad content from a landing page and if they are converting.
Pricing for the program is still done on a CPM basis, says Saunders, but adds that could soon evolve into a cost-per-acquisition or engagement model.
The beta program is running exclusively with GE for 90 days after which it will be available for other clients, says Saunders.