La Presse+'s year one sales strategy
As the tablet news product celebrates its first anniversary, Simon Jennings reflects on how its new sales model helped convert advertisers.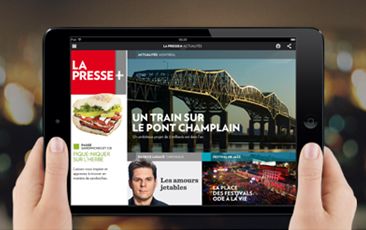 With over 450,000 downloads, and an Android edition set to launch April 23, La Presse+ is celebrating its first anniversary on a high note.
Since debuting April 18, 2013, readers are now spending on average 44 minutes with the app on weekdays, 73 minutes on Saturdays and 50 minutes on Sundays, according to a La Presse release. More than 58% of its readership comes from adults aged 25 to 54. Most readers consider the ads in La Presse+ to be an integral part of the experience, with 68% of readers saying they appreciate them.
Simon Jennings, Toronto sales group president, La Presse, tells MiC that while the news organization is pleased with the success, converting advertisers to the new product took a concerted strategy.
"Our entire business model changed. The biggest challenge was getting the industry to understand and then accept our model," he says. "We didn't just launch an iPad app, we announced to the industry that La Presse+ was now our flagship after 100 years [of producing print], and inherent in that were a lot of questions, concerns and leaps of faith on all sides."
Jennings says to transition clients over the the tablet, La Presse used two distinct iterations of its pricing model since the launch. During the back half of 2013, Jennings says La Presse had a bonus structure in place to entice advertisers. "We were asking for an overall commitment to our brand, it would provide [clients] with bonus dollars they could spend," he says. "If you kept your spend flat over a year we would give you 40% of your spend to use for the tablet."
At the start of 2014, La Presse introduced a hybrid model that Jennings says allowed clients to buy on tablet, print or both. Buyers could choose to buy just in print at the new print rate card, which had been reduced 30% because circulation was managed down 30%, buy just tablet at the tablet rate card, or buy at the old print rate and also get the equivalent ad unit (full page equals full screen, half page equals half screen, etc.) in the tablet included.
"That strategy was designed to help the agencies make the step over and at the same time to establish, at that point, the actual value of the tablet [units]," says Jennings.
Going forward, Jennings says the biggest challenge will be to convince agencies of the effectiveness of the tablet ads units with little to compare it to directly. "Traditionally, you'd build a print ad and amortize it across ten papers or a banner ad over 100 websites. But what [agencies] are building for us, they're only building for us. That continues to be where we expect more work to be, until more players in the industry jump on board with what we're doing."