AOL gets native on mobile with new launch
Leanne Gibson on the new ad option the media co is bringing to Canada in a few weeks.
AOL is bringing a new native ad option to clients looking to drive downloads with the launch of a new ad unit.
The new unit will promote mobile apps for clients across AOL and third-party partner sites under the header "Apps You'll Love" and will also have a "Sponsored" tag. Leanne Gibson, senior director, ad products and business operations, AOL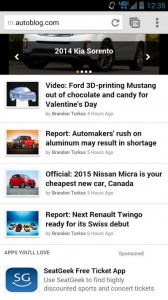 Canada, tells MiC the unit, which launched in the US late last week, will become available to Canadian clients within the next few weeks.
"Native across display is typically reserved for brand awareness, but in this case it is an opportunity to drive conversions," says Gibson.
Gibson says the new ad unit is very cost effective, coming in at a price tag that is no higher than a typical banner ad, which makes it an option for smaller publishers who might not normally have the chance to promote their apps at scale.
Third-party partner sites that will be running the new ad unit in Canada will be revealed when it is officially launched north of the border in a few weeks.