Then dot FM streams like it's 1989
A new online radio station based in Toronto operates as if it's set in the past with a playlist that grows as it would have 25 years ago.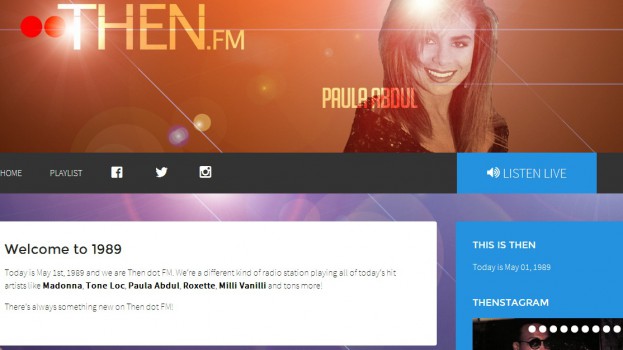 A new online radio station has launched playing today's biggest pop hits. The only catch is that on this station, "today" is 25 years ago.
Then dot FM is a new streaming radio station based in Toronto operating as if it was 1989, with new music only being added to the playlist as it would have been released 25 years prior to the present day. If a song came out May 10, 1989, it won't play on Then dot FM until May 10, 2014. A window on the Then dot FM website says "Today is [today's date], 1989." Currently, the number one song is Madonna's "Like a Prayer."
Jordan Lavin co-founder, Then dot FM, tells MiC that he and co-founder Chris James, who have 17 years of radio experience between them, executed the streaming audio service as "a radio station set in the past that grows and changes over time."
The service will play a minimum of 35% Canadian content as proof that the format could be viable on a conventional radio station bound by CanCon rules, Lavin says. "We wanted to prove that it could work like any Canadian radio station," he says. "If this is something that we ever wanted to take to…a terrestrial radio station, we wanted to know it could work in the context." The station is licensed to stream music by SOCAN.
Lavin says the station is targeted at women 25 to 54 with more of a pop focus than other retro jukebox radio formats in the market, which tend to skew male with a more rock-centric playlist. Artists to be played include Paula Abdul, Tone Loc and Michael Jackson.
The station is currently commercial free for its launch, but Lavin says Then dot FM is considering different ways of incorporating advertising, including pre-roll and in-stream audio ads, as well as display ads on the website. Lavin says there are plans to develop a mobile app as well as original programming that would have sponsors attached.