Degree teams with P.K. Subban for TV series
The Montreal Canadiens defenceman is hosting a show on Sportsnet to kick off his year as spokesman for the deodorant brand.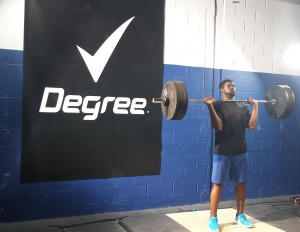 NHL star and Olympic gold medalist P.K. Subban knows a thing or two about pushing himself to improve his game. Now, the Montreal Canadiens defenceman will play a role on Unilever deodorant brand Degree's team, serving as its spokesman throughout 2014.
To kick off the partnership, Degree is sponsoring a program on TV broadcaster Sportsnet. Called The Next Level, presented by Degree, the program debuted on TV last Thursday, the same day Subban scored in overtime to win Game one for the Canadiens against the Boston Bruins in their second round Stanley Cup playoff series. Media in the partnership was handled by Mindshare, with creative from Ariad Communications.
Each of the show's nine episodes will air on Sportsnet and also will live on a digital hub. In the first four-minute episode, Subban introduces a clip featuring Canadian tennis star Milos Raonic, who talks about his dedication to his devastating serve and desire to improve his game.
It is the first time Degree has done a TV partnership and also the first time it is partnering with an elite athlete, says Michelle St. Jacques, marketing director – hair and deodorants categories, Unilever Canada. But the partnerships seemed a natural fit with its global, aspirational "Do:More" campaign launched in 2013, which calls on people to pursue their passions with confidence. This year, the brand is evolving the campaign to focus on self-improvement, St. Jacques says, linking it to a recent product innovation called Motionsense, which is billed as being able to respond to body movements to keep people fresh.
The brand's target – defined as "doers," people with a mindset of pushing their limits to improve themselves – look up to and get inspiration from elite athletes like Subban and others featured in The Next Level, St. Jacques says, adding Subban was also a good fit because he has a strong on-air presence.
He also has a solid social media presence, with more than 350,000 people following the hockey player, who was featured as a "very important tweeter" at an event last year to introduce Twitter's Canadian offices.
Launching a TV sports program is also a good fit for the brand, she says, with the target usually having an interest in sports, and it was an opportunity to deliver the brand message via content people want to watch, St. Jacques says.
"It's content we think our consumer target is going to be engaged in watching and hopefully inspired by, and we believe it also absolutely lands what our brand is about," she says. It was too early to share results, she says.
In addition to the branded content play, a TV spot will be coming to market this week featuring Subban's story about how he improves his game and the campaign will also be brought to life on social media. Degree is also a sponsor at Tough Mudder events across Canada.