Maker unveils new programming model
At the NewFronts, Maker Studios announced the launch of Maker.tv and Labs@Maker.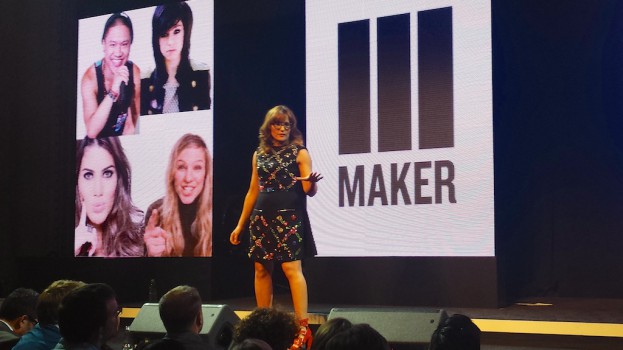 Maker Studios formally announced new programming, distribution and branded content initiatives on Tuesday that show this digital entertainment company means business.
Fresh off its sale to Disney, Maker closed the Digital Content NewFronts Tuesday with a bang, also announcing new content deals with YouTuber and producer Chester See, and Super Size Me documentarian Morgan Spurlock.
Maker Studios' executive chairman Ynon Kreiz started the night introducing Maker.tv, a web platform featuring all of its content in one place. With this new proprietary player, said Kreiz, Maker's "combined rate of unique viewers will only be third behind Google and Facebook."
The video aggregator is similar to what Conde Nast and Time revealed at their own NewFronts, suggesting that Maker is just as confident its own properties can attract viewers beyond YouTube. Maker.tv, currently in beta, will also feature windowed and exclusive content produced by Maker.
An animated Spurlock took the stage with Maker chief content officer Erin McPherson (pictured) to announce a branded-entertainment channel called Smartish. At launch, series offerings on the new vertical include Consider the Source, which will highlight economic and environmental journeys that products take to get from factories and into consumers' hands. Maker and Spurlock are also collaborating on How to Win at Life, a series based on Charles Duhigg's bestseller The Power of Habit, which examines the science and hidden psychology behind everyday choices, or as Spurlock puts it, "How the choices you make are ruining your life."
With Spurlock, Maker's verticals are now up to 23, including other high profile projects like Maker Music, Maker Gaming, Maker Family and Maker Fashion.
Labs@Maker is a new programming model that offers creators and brands the opportunity to co-create content with the studio's creative team, producers and digital expertise. The model also provides data and insight tools for real-time feedback on audience behaviour. Partners at launch include actor James Franco and Vince Jolivette's Rabbit Bandini Productions; Robert Kirkman's Skybound (home of The Walking Dead comic book); professional skateboarder Nyjah Huston; and musician will.i.am.
New series also announced include:
Over the Top – an original scripted series starring musician, actor, digital star Chester See as a struggling artist trying to make a name for himself in the LA music scene. Based on his real life experience, of course.
ShayLife – An uplifting docu-series starring YouTube superstar ShayCarl that gives individuals a rejuvenated lease on life.
Mind_Craft – Top online gamer Joseph Garrett aka Stampylonghead utilizes the leading kids game Minecraft for a new take on kid-friendly, educational programming.
CRI-CHIC-ING – Style icon P'Trique and her clique of celebrity friends dole out fashion feedback to unsuspecting pedestrians during Fashion Week – using a megaphone. That should go over well. It's not like fashion types take themselves seriously.
Maker also previewed recently announced series Oh, You Pretty Things! and Ithamar Has Nothing To Say.
With files from Aaron Leaf
From Stream Daily