AToMiC winners crowned in Toronto
The awards show recognized powerful Canadian advertising, with the Tourette Syndrome Foundation and Saatchi & Saatchi claiming the Grand Prix.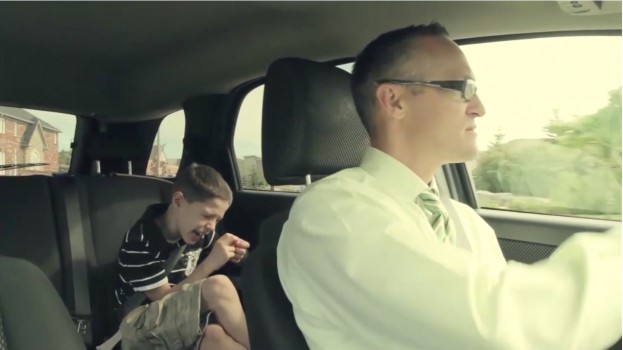 It's no surprise the Grand Prix at this evening's AToMiC Awards went to Tourette Syndrome Foundation of Canada's "Surrender Your Say."
It's the type of powerful advertising that worked in combination with technology, media and content, which is exactly what the AToMiC Awards is all about. But it's also a campaign, created by agency Saatchi & Saatchi, that was recognized for its AToMiC Collaboration, CSR, Idea and Digital Engagement, having won an additional four Gold pieces in each of those categories at the Toronto show.
The campaign did the unthinkable in an era where privacy is sacred, and asked people to hand over their Twitter accounts to the TSFC so it could randomly tweet Tourette tics (such as "I have a biscuit falling through my hair tonight" and "Wave your eyelashes at a peanut butter sandwich") during a 24-hour period in June last year.
Other cause marketing campaigns shared the spotlight, with the Missing Children Society of Canada and its agency Grey snagging three Golds for the "Milk Carton 2.0″ campaign, which turned the traditional platform to help find missing children into a re-imagined tool for the digital age. Grey also won a Bronze for the "Choose One" print ads it produced for Moms Demand Action for Gun Sense in America.
The Stanfield's and Comedy Network campaign, developed by John St., was also well-received, having snagged two Golds, a Silver and a Bronze. Called "Stanfield's + Comedy Exposed!," the program asked amateur comedians to upload a clip of themselves performing a stand-up routine in nothing but Stanfield's briefs, for the chance to compete against others in front of a crowd and judges in Toronto. John St. also won two Bronze for the fictional "The Inevitable News" digital network for the World Wildlife Fund, and another two Bronze for "The Trial of Suzuki" created for the Cape Farewell Foundation, which put Dr. David Suzuki on mock trial for making statements against the government and its inaction to curb climate change.
JWT and its clients Mazda, SickKids and Walmart added a few awards to their loot. The Mazda3 "Fast Lane" program, in which moviegoers could participate in a driving game while in a cinema (using TimePlay), took home two Silver awards, while SickKids' "Real-Life Hero" spot, which was also set inside a cinema and put a young cancer-survivor in the spotlight during movie previews, was awarded a Bronze. And for Walmart, the agency created pyjamas that mimicked a flyer and sent it to the homes of consumers for them to use a product guide when shopping online (preferably while in the sleepwear), which won a Bronze.
Zulu Alpha Kilo won two Bronze for the Coca-Cola "Arctic Home" experiential campaign, which invited Canadians to make a pledge to help support and create awareness about the polar bear's degrading natural habitat, while also snagging a Bronze for its "Kringl" app, produced in partnership with the Make-A-Wish Foundation, to help parents demonstrate Santa Claus is "real" using augmented reality.
WestJet's "Christmas Miracle" in which the airline surprised and doted travellers with gifts upon their arrival in the destination city, with the help of Mosaic, received a Gold and a Silver. Mosaic also took home a Silver for the "Magnum Pleasure Store" that invited consumers to create their own bespoke Magnum ice cream in Toronto.
Molson Canadian stepped up to the stage, along with Rethink, to take home a Gold and Silver for its "Beer Fridge" in which a Europe-travelling fridge stocked with Molson could only be opened using a Canadian passport, as well as a Silver for the "Spoiler Alerter" Google Chrome extension that halted people from viewing a page that had any mention of game scores from the World Junior Hockey Championships (the games took place in Russia, usually at around 4 a.m. in Canada).
There were a few transmedia campaigns that were recognized, with Secret Location taking home a a big chunk of awards. The agency took home three Silvers for the "GrojBand: The Show Must Go On!" digital program for Teletoon, "The Next Step Interactive" platform for the Family Channel and The Amazing Race "Gamisodes" for CTV. It also snagged a Bronze for its "Perfect Storms Interactive" program for the History channel. Other transmedia storytelling campaigns that won include "Temp by Douglas Coupland" for Metro, which took home a Silver and a Bronze, as well as Volkswagen's Once More: The Story of VIN 903847 by Red Urban.
Taxi went away with a Gold for the "Ice Truck" spot it created for Canadian Tire, where the brand created a truck made entirely out of ice to showcase its battery that can withstand extreme temps, and another Gold for the "Rib Stain Camo" T-shirt for Boston Pizza.
Budweiser and agency UM took home a Gold and a Silver for the "Budweiser Red Lights" campaign, which involved the brand installing a hockey light in consumers' living rooms that went off when their team scored a goal.
Harvey's Canada and BBDO went home with two Silvers, having won for the "Copyright" campaign in which Canadians could make their own digital hamburger, using a variety of ingredients, and patent the burger with their name.
Leo Burnett won a Silver and a Bronze for its experiential "Walking Dead Rotting Finger Countdown," which was placed in Toronto's Union Station to promote the show for AMC Network.
OneMethod Digital + Design won a Silver for the La Carnita pop-up restaurant, which began as a self-promotional tool for the Bensimon Byrne-owned agency, as did Lg2 for its "Ghosts" stunt, which saw the installation of a digital video and motion sensor behind the mirrors in a college washroom to create awareness of dangerous driving for La société de l'assurance automobile du Québec. CineCoup Media also took home a Silver for the "CineCoup Film Accelerator" program that helped support and fund filmmaker projects.
Lowe Roche snagged a Bronze for the "Make Health Last" TV and digital campaign for the Heart and Stroke Foundation of Canada, which was a follow-up to its "Make Death Wait" campaign, while Cossette also took home a Bronze for the "Instagram Trailers" created for the Toronto Silent Film Festival.