Sears Canada debuts shoppable spot
The retailer dips into its innovation budget to run a version of its new commercial as YouTube pre-roll with the option to click to "shop now."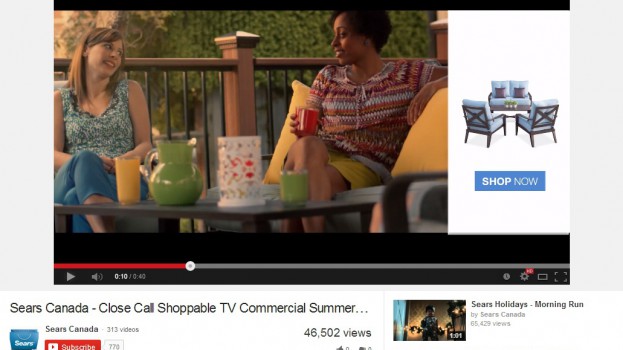 As Sears Canada unveils a new 30-second spot to showcase its line of summer wares on TV, a shoppable version of the spot is running as pre-roll on YouTube.
The ad takes place in a busy backyard, and as various products come into view on screen a button labelled "shop now" appears on the right of the frame. Viewers click the button and are led directly to the product page on Sears Canada's online store.
Adil Qawi, divisional VP of  marketing communications, Sears Canada, tells MiC that the effort sprang from a portion of the retailer's marketing budget that was earmarked for innovation.
With the goal of becoming more of an omni-channel retailer to make shopping more convenient and attract new customers, Qawi says a segment of the year's marketing budget has been set aside for new projects like the shoppable video, with various multicultural marketing efforts and more cross-platform initiatives to roll out this summer. Qawi says that all future TV spots that feature merchandise will have a shoppable component online.
With media by Vizeum Canada and creative by Bimm, Sears worked with Google directly to develop the digital infrastructure behind the shoppable spot, which will run as pre-roll on YouTube videos targeting women 35 to 45. On TV the spot will air on CTV, City, Global, CBC, HGTV, Bravo, Food Network and W Network.
The campaign launched May 19 and runs until June 1.