Tessa Sproule leaving CBC
The digital content director is leaving to pursue her own projects, following a 20-year career at the public broadcaster.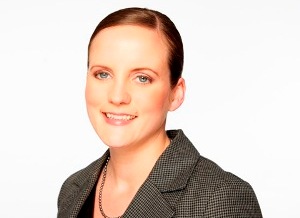 Change is continuing to rock the CBC with the confirmation this morning that digital director Tessa Sproule is leaving the pubcaster.
Sproule, who has been with the CBC since 1994, has increasingly been the face of CBC's digital initiatives in recent years, as the pubcaster has invested in innovative second-screen tech for flashy reality series like Battle of the Blades.
Her departure is not due to recent budget cuts, she said, but rather an increasing desire to be a part of what's next in digital.
"No one is stealing me away," she confirmed. "This is something that's been in my head for awhile. I have an idea for a business that I've been wanting to start for awhile and it feels right now that this is the perfect time. I think that I'm leaving CBC in really good hands, I think the place is ready for change and so am I."
Sproule started at the CBC in radio "cutting tape with razor blades" and has risen up the ranks in the 20 years since, becoming director of interactive content in 2007 and director of digital content in April 2013. Her long tenure at the pubcaster will end at the end of July.
"I've been itching for quite some time to get out of legacy media and figure out what I can do in the non-legacy landscape. I would like to be amongst really great minds that will be defining what the future is and I want to be at the front of the charge."
The news of Sproule's departure broke this morning on Twitter via Tamara Baluja of J Source.
From Playback Daily