CBC upfront: hellos, goodbyes and 'new directions'
The pubcaster unveils its fall lineup amidst its ongoing budget crisis, revealing the end of Doyle, a new comedy portal and details on two of its new one-hour dramas.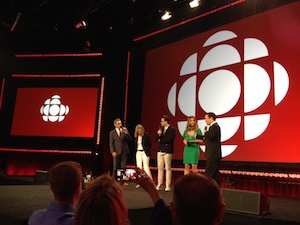 The news broke on Twitter hours earlier via TV critic Bill Brioux, but it still caused a stir when Republic of Doyle's Allan Hawco took the stage at the CBC upfront to announce that the long-running series would be ending after its upcoming sixth season.
While a six-season run for any series is more than respectable, the end of Doyle comes as the CBC grapples with both a budget crisis and the PR challenges that accompany it: programming cuts, layoffs and the inevitable talent bleed.
"As you know, there's not much going on at the CBC these days," CBC head of English Services Heather Conway joked as she took the stage. "We just wanted to have you guys over for coffee."
However, doom and gloom was not the picture CBC was looking to paint at its 2014 upfront presentation. The intimate presentation space was dwarfed by giant screens, flashy sizzle reels, and a parade of talent and executives extolling the pubcaster's commitment to Canadian storytelling.
Conway issued what would become a common refrain through the presentation, that the fall-winter lineup across mediums "speaks to a change in direction" for the beleaguered broadcaster.
That change in direction on TV will see two new one-hour original dramas debut on the channel this fall: Camp X (mid-season), a WWII spy series from Temple Street Productions, and Strange Empire (fall, Mondays at 9 p.m.), a frontier period drama.
Also debuting mid-season are the previously announced half-hour comedy Schitt's Creek, six-part international co-pro Book of Negroes and Pirate's Passage, an animated feature produced and written by Donald Sutherland.
On the unscripted side, the CBC revealed that the host of the expanded Canada's Smartest Person (Sundays, 8 p.m., fall) will be Jessie Cruikshank, formerly of MTV, and Murdoch's Jonny Harris introduced his new show, an adapted format called Of All Places for mid-season.
On the acquisition side, CBC is airing Maggie Gyllenhaal-starrer The Honourable Woman this fall and this summer, and Secrets and Lies, a six-part miniseries from BBC Worldwide and Australian prodco Hoodlum. It's also introducing a new one-hour block on Sunday nights called CBC Selects, which will feature programming from other public broadcasters from around the world.
The CBC also announced it is dipping its toe into digital waters, soft-launching a new online comedy portal called Punchline. While Dettman and scripted boss Sally Catto were coy regarding content details, the duo confirmed that user-generated content, web shorts and stand-up are all possible directions the portal will head in once it passes its beta stage. Currently, the portal features CBC comedic talent under the banner "Punchline Studio," with content from the "22 Minutes Writers' Room" and other web shorts based on broadcast properties.
Jean Mongeau, general manager, CRO for CBC/Radio-Canada, who recently took on the role after the departure of Alan Dark, said the presentation aimed to be the first step in proving there is "life after hockey" at the pubcaster, noting one positive is the ability to to do more varied integrations because they don't all need to centre around the sport.
CBC/Radio-Canada announced the merger of its sales groups to present a multi-platform offering, something Mongeau says will be rolling out over the summer and officially put into place this fall.
"We are looking to truly reinforce the distinctiveness of the Canadian public broadcaster," he says. "This schedule is the first step in the reworking of programming on the CBC."

From Playback Daily