Rogers Media unveils 2014-15 schedule
The broadcaster rolled out new US dramas, comedies and reality series to advertisers, as well as Canadian content such as Package Deal (pictured).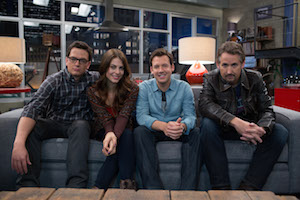 Rogers Media on Tuesday unveiled new US comedies, dramas and three reality series acquired at the recent Los Angeles Screenings as the Canadian Upfront presentations kicked into gear.
The new US shows for the broadcaster's upcoming Fall 2014 schedule includes the new drama Scorpion on Monday nights at 9 p.m., the reality series Utopia  on Tuesday nights at 8 p.m. and Fridays at 9 p.m., both in simulcast, and the comedy Black-ish on Wednesday nights at 9:30 p.m.
After last year stripping Modern Family at 7 p.m. and 7:30 p.m., City will do the same this coming season with the 10 p.m. and 10:30 p.m. timeslots being filled with strip episodes of 2 Broke Girls and Two and a Half Men.
As previously announced, City will feature first-time NHL hockey games on Saturday and Sunday nights.
Returning series for City includes New Girl, and The Mindy Project, in addition to the reality series The Bachelor and Hell's Kitchen.
On the Canadian series front, City will air The Bachelor Canada at 8 p.m. on Thursday nights, and the comedy Package Deal on Friday nights at 8 p.m.
Rogers Media also acquired for mid-season the one-hour drama Backstrom, a comic crime procedural that stars Rainn Wilson, and which is yet to be scheduled.
In addition to the 57th annual Grammy Awards and The Country Music Awards, City will also air the three-hour live event show Peter Pan Live!, acquired from Universal.
Prior to Rogers Media's upfront presentation Tuesday night, Hayden Mindell, director, programming at Rogers Communications said that the 2014-2015 fall schedule represents a shift in programming strategy for the conventional net.
"With the addition of hockey, we're going to draw entirely new audiences to the network. We want to be able to grow those audiences, bring in new people to hockey, but also use hockey as a promotional vehicle," he said. "We had become focused on women and comedy and this is just the opportunity we've been looking for to broaden that."
From Playback Daily