MiO brings music to transit riders during NXNE
The Kraft brand is just one sponsor aiming to create a better festival experience by appealing to fans' needs, as well as their sense of creativity.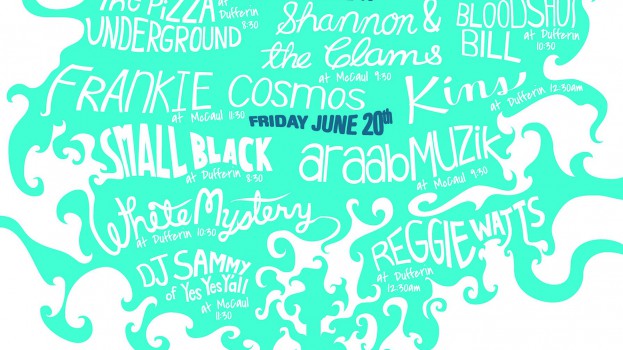 MiO is breaking away from the stage during North by Northeast, running their own concert series on a working streetcar during Toronto's massive music festival.
From June 18 to 21, Kraft Canada's liquid water enhancer will try to enhance the experience of riding public transit by running a special double-long TTC streetcar along a route downtown. During the ride, a rotating roster of NXNE artists will play a full set on the "Squirtcar," with passengers/concertgoers getting on and off at the music venues it stops at along the way. Although capacity is limited, entry to the car is free for those with a NXNE wristband. The main priority from MiO is creating an intimate concert experience in a way that hasn't been seen before.
"The thing we're really excited for is that you'll have people as close to a band as they are ever going to get," says Joseph Mele, brand manager for MiO at Kraft Canada.
An artist will begin their set as the Squirtcar heads East from the corner of Queen and Dufferin. Winding down Shaw, King and up Spadina, a new artist starts when the streetcar reaches Queen and McCaul. Then, it will head back towards Dufferin, starting the whole route over again.
"You can sit there while you ride from Great Hall to Wrong Bar and have Reggie Watts play a song for you," said Christopher Roberts, festival director for NXNE.
Mele says NXNE is part of MiO testing the waters to do more activation at events. While its parent company has some experience with large-scale activation with Kraft Hockeyville, this is the first time it has attempted something like this that is targeted at millennials.
In another first, MiO has created the MiO POV app, which will allow concertgoers at Thursday's show at Yonge-Dundas Square to stream videos that will also appear on the square's giant screens. Samsung will also be utilizing the screens at Yonge-Dundas, setting up a "selfie booth" on Friday where fans can take pictures with the Samsung GS5 phone that will then be displayed on their 80-foot screen.
"Millenials have the most sophisticated bull***t detectors of all time," Roberts says. "They know marketing has to happen and when they're being marketed to, so we do it with sophistication and fun. It's all really thoughtful and well-curated. Without that element, it's less fun and it all seems fake."
Brand activation is a major element of NXNE, one of the few music festivals of its kind in terms of scope and ubiquity while it's on. It stretches across Toronto, reaching inside and outside nearly every stage in the city. Anything of that size is going to bring difficulties for festival-goers, so implementing activations that address some of those difficulties is a win-win for brands and the festival, says Roberts.
"We want [festival goers] to have a great time and memorable moments, but there are problems with the festival experience," he says. "If we can solve those problems with some brand activation, it will move people to be more favourable to that brand. The whole idea is to enhance the overall experience."
MiO's Squirtcar providing transportation between NXNE venues isn't the only helpful activation. Headphone manufacturer Sennheiser will be providing cellphone charging stations set up at Yonge-Dundas Square and Massey Hall.
One of Toronto's most legendary concert venues, The Horseshoe Tavern, will be sponsored by Budweiser during NXNE. The Budweiser Music House, as it will be known, will have live-streaming screens for those in the venue's front bar and patio who can't get in the main performance area. This will be especially useful during a sponsored secret show on June 20 – artist to be announced, of course.