Banner ads linked with lower brand favourability: study
According to new research from IPG Media Lab and Kiip presented at Cannes, banner ads increase awareness for consumers, but lower the likeability of the brand.
New research from IPG Media Lab and Kiip show that brand awareness goes up when brands use banner ads, but favourability of the company goes down.
By contrast, consumers who were given brand rewards at moments of achievement, like burning a certain number of calories on a run that is logged by an app or creating a playlist boosted brand favourability.
Banner ads decreased the respect for brands by 7%, while rewards boosted respect for the companies that used them by 14%.
Those measured in the study reported recognition that advertising is necessary for free mobile apps, with 63% of respondents saying they expect to see brands in that environment. Of the ads on mobile, rewards were reported to be the most preferred format, with 84% saying they would most like brands to be involved that way. Small banner ads were reported as acceptable by 76% of respondents, full page digital ads by 18% and full screen video ads by 14% of people surveyed.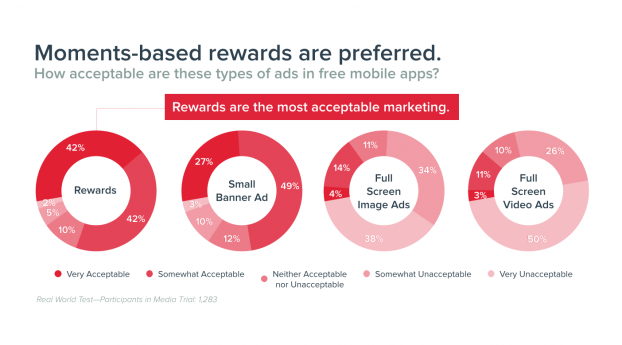 Purchase intent was also boosted for brands that used mobile rewards, going up by 82% versus 6% for companies that had used banner ads. More people also thought of brands that used rewards as premium (35%) versus those who used banner ads (5%).
Brian Wong, founder and CEO of San Francisco- based Kiip, who presented the study with IPG Lab's managing partner Chad Stoller,  tells MiC the report shows that brands need to be doing more than placing banner ads to fulfill their digital plans.
"One of the most exciting things that came out of the research was an increase in awareness for brands that use banner ads but a decrease in favourability, which seems obvious but now we have been able to measure it," he says. "That is all the more reason for marketers to think twice about just needing to be there for the sake of being there. Being there isn't going to cut it anymore because it is going to create a detrimental effect."
He said brands need to be there for consumers at the "th" moments, like their 1,000th calorie burned. Wong added he would like to see brands use mobile "as if the banner ad never existed," instead using connecting with consumers at moments of achievement as the metric of choice for the platform.
Photo (left to right): Brian Wong and Chad Stoller presenting at the 2014 Cannes Lions Festival