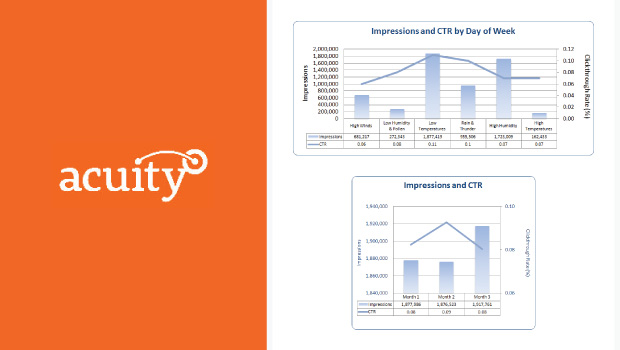 While many programmatic platforms got their start in the US before expanding to Canada, Acuity has been working in the opposite direction. Acuity began as a demand side platform about five years ago in Toronto but has since evolved into a programmatic marketing platform offering ad inventory across display, mobile, video and social media. Last year the company opened a New York office and has expanded its US sales team to cover the Chicago, Los Angeles and Dallas markets.
Katie Wolf, Acuity's Director of Product and Partnerships, says what Acuity is trying to do is help educate and lead the Canadian market forward. "We are a Canadian company but we're also going global. There are a lot of very exciting changes coming in the programmatic marketplace including the fact that we will be testing out other media throughout our platform. That's the kind of vision Acuity has and how we're moving forward."
In a few short years, Acuity has grown its annual client base from 26 brands to 187. It has also recruited its top executives and built a staff of experts from companies such as AOL, WebMD, Ogilvy and Olive Media.
Wolf worked on the digital team at Cossette for 12 years before joining Acuity so she really understands the benefits of programmatic as well as the pain points that planners go through to get a campaign up and running. "It really was a very time-consuming process and the dollars being put behind digital didn't compensate agencies well enough for the work involved," says Wolf. "Programmatic is not only automating a lot of these systems but it's making clients feel more comfortable about how their dollars are being spent. We know that P&G says 70% to 75% of their dollars for digital will be through programmatic channels by end of this year. Hopefully we will see a similar trend happening in the Canadian market soon."
Targeting and profiling are two of the capabilities important to advertisers when it comes to programmatic buying and perhaps, that is why the Acuity programmatic marketing platform is so successful. The cornerstone of Acuity's offering is its consumer connection platform, consumer-profiling technology that gives advertisers the ability to target and connect with over 500 million in-house consumer profiles. Acuity has partnered with eXelate and comScore to enhance the data and analytics features of its platform.
In addition to traditional targeting, the Acuity Programmatic Marketing Platform ensures brand safety and relevance with an innovative range of targeting classifications including latitude/longitude targeting, a topic detection system and Acuity weather targeting that enables targeting based on weather conditions. The Acuity brand safety tool uses a list of keywords to ensure that an airline, for example, won't have ads appear on web pages with content focusing on plane delays or accidents.
Wolf says, "We know that's it's not just digital that is going to be sold programmatically in the future: we believe that all media will eventually be sold programmatically. Programmatic buying and selling of TV and out-of-home are already being tested in the US, and will eventually come to the Canadian market. Acuity is positioning itself to manage programmatic across channels and devices for all of our clients in a way that they will be able to garner true insights and leverage those insights to get the best out of their advertising spend."