The Volkswagen-CBC Beetle Roadtrip Sessions return
The car company is back sponsoring the program, this year expanding its French market presence.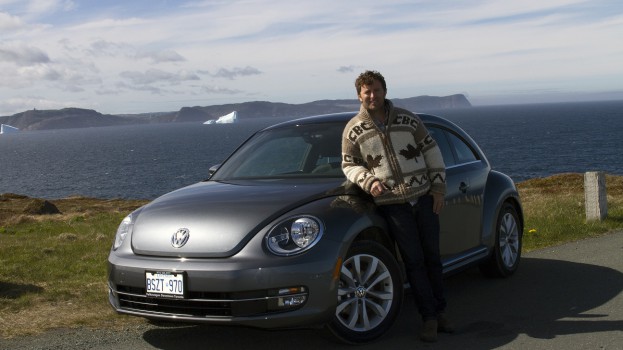 The Beetle Roadtrip Sessions are back – and this time they're adding the East Coast and expanding their French-language market presence.
When Volkswagen and CBC Music launched the initial Beetle Roadtrip Sessions in 2013 to showcase the car manufacturer's new Fender edition of the vehicle, CBC Radio 3′s behind-the-wheel host Grant Lawrence only made it as far as Toronto from his Vancouver hometown, with a short side trip to Montreal.
Bands were interviewed and showcased at stops along the way, consumers were socially engaged and the whole adventure proved so popular that it won a Canadian Screen Award; all factors that Lynne Piette, Volkswagen Canada's manager, brand marketing, says made it a shoo-in to return in 2014.
For this year's model, which included media from Mediacom and creative from Red Urban, Piette says VW is showcasing the Beetle TDI Clean Diesel, "to really highlight the fuel efficiency of the car going across Canada with less fuel."
Lawrence is back, having started June 16 in St. John's Newfoundland and ending his trip on July 25 in Vancouver.
This time, CBC Music's sister station ICI Musique is also on board, with host Philippe Fehmiu appearing exclusively at four Quebec stops, running a parallel campaign in the French-language market.
Both men will be driving the environmentally friendly Beetle and the two cars will meet in Montreal for a crossover session.
And, of course, there will be music – an important component of the campaign, as it features interviews and performances of up-and-coming artists for the demographic that VW and the CBC are aiming for.
"We're going wide: that male-female, 25- to 54-year-old who likes the cultural and iconic nature of the Beetle and music together," Piette says.
The campaign roll-out began during the NHL playoffs and includes TV, radio and an online presence, featuring two microsites,  one for ICI Radio-Canada and one for CBC.ca, online banners, leaderboard and pre-roll video, as well as daily entries that will be seen on numerous CBC properties
For the CBC's part, Bryan Ward, specialist, brand activation​, media sales and marketing for CBC​, says the national broadcaster is expanding its social media push for the Beetle Roadtrip Sessions.
"This year we're integrating the social media a lot more," Ward, tells MiC, saying videos will be posted on Vine and an Instagram trailer will also be cut.
Plus each artist will have their own 60-second spot, which the CBC will be producing.
"There's also a bigger radio push this year as well, now that the CBC and properties like Radio 2 can be associated with advertisers," he says. "We have promos running on that right now, and when the sessions start rolling out in early July, they'll be on Radio 2 pushing for the content and daily radio check-ins with Radio 3."
VW's Piette says the campaign isn't so much about making a hard sales pitch, as "trying to get people to look at Volkswagen differently and consider VW in the future."
Lawrence's journey can be followed here.