CBC's Hubert Lacroix: 'I have no intention of resigning'
That defiance came as CBC toppers put details on its mobile-first programming strategy outlined earlier in the day at a heated employee town hall meeting.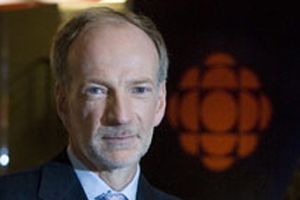 A defiant CBC/Radio-Canada president Hubert Lacroix on Thursday refused to resign in the face of heated calls to do so at an earlier employee town hall meeting.
"In the context of what we're doing, and what you heard at the town hall, we tried to put things in perspective," Lacroix told journalists during an afternoon conference call.
What he and Heather Conway, EVP of English Services, who was also on the call, are trying to do includes shifting the CBC from conventional TV to digital and mobile content and spaces, reduce in-house production and cut supper-hour newscasts to a baseline 30 minutes and in some cases 60 minutes or 90 minutes, and cut up to 1,500 staff by 2020 on top of those identified in April.
Lacroix was eager to insist the CBC's current woes were not self-inflected, but shared across the industry, and globally, saying that the Canadian financing model for traditional conventional TV is endangered by a fast-changing digital landscape.
"You see it from the comments of not just me, but the comments of Keith Pelley and the choices that Bell is doing and the conversations around how do we protect our investment in local TV," he argued. "When you put that in context, what we're trying to do, we think we have a plan and a great team and we're going to deliver on that. And I have no intention of resigning."
After confirming he's still in post, Lacroix and Conway added details to the mobile-first programming strategy they outlined earlier in the day.
"We have to start to shift our investment dollars into building mobile product. That means not taking a traditional TV product and making it smaller for a smaller screen. That means producing content for a mobile device," Conway explained.
That process, to start within 12 months, will mean inverting the CBC workforce from its current state of TV and radio first.
"We will start to say, let's start producing for mobile first, then digital, then radio, then television," Conway outlined.
Realizing that vision will entail additional job cuts to those already unveiled in April.
"In April, that was all about balancing our budget. What you're hearing today is not about job cuts, it's about a vision, it's about a financial model that's sustainable. And how do we get there? It's about infrastructure and it's about people adjusting," Lacroix argued.
That means the CBC will reduce its infrastructure footprint to free up dollars for new digital and mobile content.
And it will mean a smaller workforce by 2020.
"Absolutely. What we announced today is, over five years, you're going to get a smaller broadcaster. We gave a number of 1,000 to 1,500. In the context of trying to get there, one third of job cuts will happen in 12 to 15 months, and the rest is going to happen in 45 months," Lacroix said, laying out a tentative timeline.
As to the future of the CBC's in-house documentary unit, veteran Mark Starowicz is being made a genre head at the CBC for documentaries.
But asked if there will be no more in-house documentary production, just as there is no more in-house comedy or drama production, Conway answered with uncharacteristic imprecision: "Well, I think that, on the one hand, that's a fair characterization. On the other hand, because of the nature of the business we're in, where a whole lot of the in-house folks in the current affairs area are capable of making docs, it makes it a little weirder, right?"
Conway attempted to walk a fine line between allowing that, where a CBC news and current affairs specialist was able to make docs, they will, and opening up the CBC to documentaries from the indie production community.
The CBC toppers also insisted kids production at the CBC would continue in-house, and remain unaffected by the current radical programming shifts.
As for other primetime genres like drama and comedy, Conway insisted the CBC will maintain a production studio in-house in case an indie producer wants to work within the mother ship.
Otherwise, all in-house TV shows will be scrutinized to see whether they are worth keeping round, or replacing.
"We're going to look at Steven and Chris and say, should this be something that we do in-house, or finish the season and say what we will do next year," Conway added.
From Playback Daily