The Grid folds
Torstar's Toronto weekly will publish its last issue on Thursday.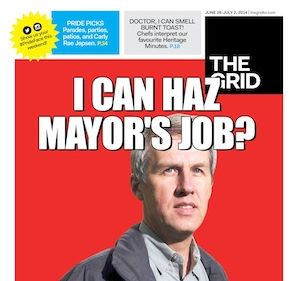 The Grid is no more. After 162 issues, the civic-minded free weekly will publish its last issue on July 3.
Parent company Torstar announced the paper's folding in a tweet from the publication's Twitter account this morning.
In a statement from Torstar posted on the Toronto Star, the company said the fragmented media landscape and inability to generate sufficient revenue are at the root of today's announcement. The Grid was not named as part of a recent sales restructuring at Torstar that includes the Toronto Star and Metro.
The Grid launched in May 2011, taking over as Torstar's free weekly after discontinuing Eye Weekly. Among other things, it has been lauded for its visual design, being named one of the best-designed newspapers in the world by the Society For News Design three years in a row.
In April, the paper underwent a total redesign that reduced the size of its pages, and increased its local news coverage. The paper had a weekly circulation of 70,000 at that time.
The Grid recently hosted the third annual Burger Week and was planning to launch a beer and cider festival in September as part of a strategy to increase the revenue from events to offset losses in advertising. It was also set to host the Toronto Music Run in August with Blue Ant Media's Aux.
Late last year, The Grid opted out of its deal with Gateway Newsstands to distribute in TTC stations, with the contract going to its main competitor, NOW.
The Grid has 22 staff, of which 12 are editorial. In a memo to staff John Cruickshank, president of the Star Media Group said that "most" of those staff members would be leaving the company as a result of the title closing.
Torstar recently sold its Harlequin book division to News Corp in May.
With files from Val Maloney