Spotted! Jack Astor's launches an extreme patio season
The restaurant is running a "real-time" trip giveaway, as well as a full slate of summer promotions to get Torontonians onto its patios and keep them there.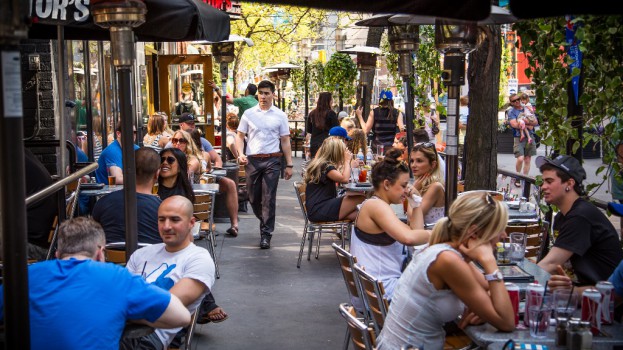 Jack Astor's is going out of its way to become the patio spot for Torontonians this summer with a range of promotions anchored by an on-the-spot trip giveaway.
People who show up to a Jack Astor's patio in Toronto before 1 p.m. on selected Saturdays in July and August can win by taking a selfie, posting it on Twitter or Instagram and tagging Jack Astor's. A winner will be randomly selected on the spot, and within half an hour of posting to social media, they will be taken by limo to Billy Bishop airport where a pontoon airplane will fly them to a private lakeside patio in Muskoka with food, entertainment and drinks provided by Corona. Zulu Alpha Kilo is working with Vision on strategy for the campaign, with Media Experts handling the media buy.
"We're looking to reach young adults, since they're the kind of people that want to spend an entire day on the patio getting sun," Shane Ogilvie, executive creative director at Zulu Alpha Kilo, tells MiC. "It's not limited to millennials, but they're the core that would get charged [up] by the measures we're taking."
Ogilvie says those measures, aimed at beating the competition during summer patio season, might be a little "extreme," but are in line with the brand's sense of humour. They'll be branding several of the rikshaw-like EcoCabs as "Patio Wagons," offering people near a Jack Astor's location rides around Toronto. The team at Zulu says the drivers will be targeting people waiting in line to get on to the patios at other restaurants, encouraging them to change their plans.
Some of the less direct ways the restaurant plans to keep people on its patios include live Weather Network broadcasts from patios, giving discounts to those who use a sticker to get a tan line in the shape Jack's donkey mascot and servers handing out "doctor's notes" for people who might have had somewhere else they were supposed to be. There will also be discounts on drinks if it starts to rain, with an even bigger discount if a patron decides to tough out the sour weather.
The destination contest is exclusive to Toronto, due to the city's high density of Jack Astor's locations and the logistics of getting patrons to Muskoka within an afternoon, says Ebrahim El Kalza, strategic planning director at Zulu. It's being promoted through Jack Astor's social media accounts, in-restaurant posters and radio ads in Toronto.
Zulu has worked with Jack Astor's for five years, doing summer tours and sampling, but Ogilvie says this summer's strategy is focused on putting more media dollars behind the patio aspect than before.