Canadian Women's Foundation shines light on human trafficking
The organization is aiming to get people involved in the issue with its new cross-platform and interactive campaign.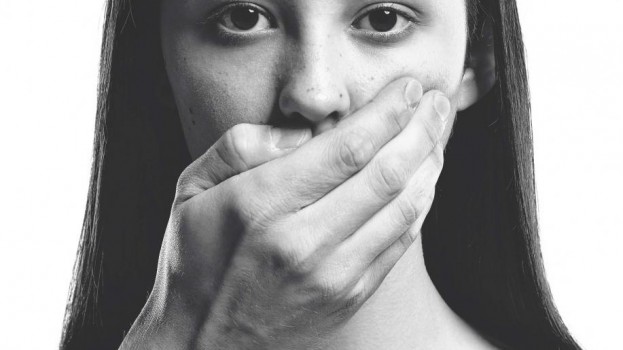 The Canadian Women's Foundation is drawing attention to the human trafficking of girls through a large-scale, cross-platform campaign.
The campaign is largely made up of OOH ads running in major Canadian cities, with creative featuring black-and-white images of young girls with their mouths covered by the hand of an adult. Some smaller, transit-focused space is also included in the GTA and surrounding municipalities.
Cross-platform spots also include TV and radio ads featuring adult men and women reading testimonials based on the experiences of Canadian girls who have experienced trafficking in their youth.
All of the ads are directing Canadians to a dedicated microsite where they can record video of themselves doing the same. They can then share it across social media to encourage friends and followers to follow suit. Aside from the online media buy done by Aber Group, media on the campaign was handled internally by the foundation, with creative from DDB Canada.
The foundation chose trafficking this year because it is a newer area of work for them, having invested $2 million into a task force and programs on the issue. It's also an issue that suffers from a lack of awareness.

"It's unbelievable how underground human trafficking is, which is why a lot of Canadians don't know about it," Sarah Ruddle, director of marketing and communications at Canadian Women's Foundation, tells MiC. She adds that an unexpected number of the victims are Canadian-born girls that are lured and coerced into the work by older men. "This is our way of letting [Canadians] know, but it's also giving them something to do. You don't want to paralyze them with information, they can take five seconds to do something."
The foundation did its first national campaign working with DDB Canada in 2012 around the issue of violence against women. Then, much like this year, DDB provided the equivalent of $500,000 in services pro-bono. Tribal Worldwide is also involved as a production partner.
The national media partner on the campaign is Rogers Media, which is donating space on its radio, television and print properties. The foundation's long list of OOH partners includes Adapt Media, NewAd, Pattison Outdoor, Lamar Advertising and Streetscreen Media. Other TV media partners include Shaw, Corus and CBC. The ads will also be appearing at properties owned by Cineplex and in the pages of The Walrus. Overall, the amount of donated and discounted work and property allowed the foundation to turn its small budget into a $1.5 million campaign.
The foundation is expecting 230 million impressions from the campaign. Ruddle also says the campaign will likely appeal to their main audience of 35- to 65-year-old socially conscious women, but hopes it will also open the eyes of its secondary audiences of younger women and adult men.
"We aren't asking for money, we're asking Canadians to donate their voice in name of the cause. It's kind of in solidarity, because [the girls] can't tell their own stories," Ruddle says of the message behind the campaign.
The main weight of the campaign will run until the middle of August, although some of the donated space will still bear the foundation's message until the fall.