Toronto Pan Am Games begin countdown to 2015
Organizers and sponsors are hosting a countdown celebration this weekend, with activations like CIBC's human foosball.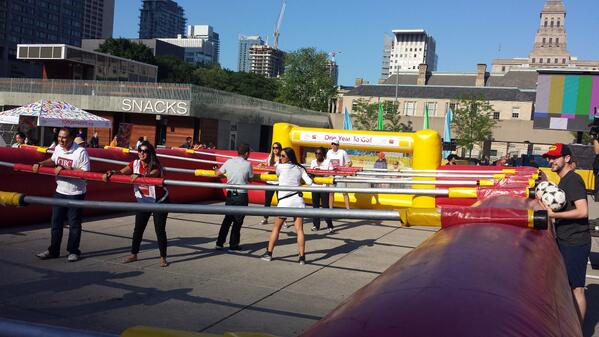 One year ahead of the 2015 Pan Am and Parapan Am Games, Torontonians and sponsors alike are getting into the spirit with a two-day event.
Pan Am's One Year Countdown event, marking 365 days until the Games' opening ceremonies, is being held today and Saturday at Toronto's Nathan Phillips Square with smaller celebrations being held in partner communities like Mississauga, Hamilton and Oshawa, among others. There will be sports demonstrations, a fireworks display and musical performances by Machel Montano and Walk Off The Earth.
Many of Pan Am's sponsors are using the event as a chance to do early activations. Pan Am has announced 23 sponsors for the international sporting competition since lead partner CIBC signed on back in 2011. More sponsor announcements are coming in future months and there are still opportunities for companies to get involved.
"If the Vancouver Olympics are any guide, we will keep working and will probably be announcing sponsors up to three months before the Games," Rick Ramsbottom, VP of sales and sponsorship services for the Toronto Pan Am/Parapan Am Games, tells MiC.
At Countdown, CIBC is bringing a human foosball area (pictured), as well as a "competitive painting" event called Art Battle as a tie-in with Pan Am's arts and culture program, Panamania. Chevrolet is organizing an interactive mural creation and, as official vehicle sponsor, will provide a fleet of 1,000 vehicles over the course of the Games. Cirque du Soleil, the creative sponsor of the opening ceremonies, will be doing a teaser performance in the Square.
Other sponsors include Coca-Cola, Molson Canadian, Pattison Outdoor and the Toronto Star. In addition to activations, many sponsors are sending their staff to the event to provide behind-the-scenes support.
The opening of today's event will also feature the unveiling of Cisco's Toronto 2015 Countdown Clock. Ramsbottom couldn't reveal too many details before the event, but said that it is "much more than just a clock," creating anticipation for the Games but also providing information about Pan Am's venues, sports and events.
Ramsbottom says that Pan Am provides sponsors with a chance to show off what their products and services and capable of.
"We want to take advantage of companies that believe in ingenuity and innovation and doing things in smart ways," he says of what Pan Am is looking for in their sponsors.