The fight for Fall TV
The battle plans from each of the major networks, as we head into the new fall season.
CBC 2.0
By Katie Bailey
Rogers Media's deal for NHL rights in Canada could not have come at a worse time for CBC.
Already reeling from significant federal budget cuts and a challenging ad market, the loss of hockey was a body blow for the pubcaster's programming strategy.
In recent years, CBC TV's biggest audience drivers have been news, NHL hockey, "shiny floor" reality shows like Battle of the Blades, competition reality like Dragons' Den and mega-sports events like the World Cup. On the primetime scripted side, it had a fairly stable mix of dramas (Heartland, Murdoch Mysteries, Arctic Air), comedies (Mr. D) and flagship factual shows like George Stroumboulopoulos Tonight and The Nature of Things.
That pretty much all went out the window this winter.
Strombo disembarked to Rogers, dramas Arctic Air and Cracked were cancelled, Republic of Doyle reached the end of its six-season run, expensive "shiny floor" realities were axed and CBC was left with a gaping hole where NHL ad revenue was supposed to be.
However, CBC did its best at its May 29 upfront presentation to paint a picture of decidedly less doom and gloom.
And, fledgling as it may be, it has its sights on a new programming strategy it believes is reflective of both its budget and today's sophisticated TV landscape.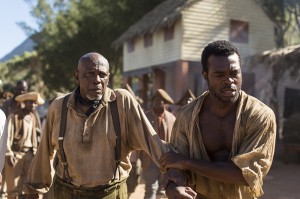 Helming this new strategy is Heather Conway, who stepped in to fill Kirstine Stewart's shoes in December 2013. Conway said the goal is to balance content trends, like high-quality serialized drama, with CBC's need to be savvy with its programming dollars.
The channel's new drama strategy will see two new one-hour originals debut this fall: Camp X (mid-season), a Second World War spy thriller based on a true Canadian story, and Strange Empire (fall, Mondays at 9 p.m.), a frontier period drama set on the Alberta-Montana border.
Debuting mid-season are the half-hour sitcom Schitt's Creek, starring legendary comedy duo Eugene Levy and Catherine O'Hara, six-part miniseries The Book of Negroes (based on the bestselling book by Lawrence Hill and pictured above) and Pirate's Passage, an animated feature produced and written by Donald Sutherland.
On the unscripted side, the CBC is taking a more modest approach to reality with Canada's Smartest Person (Sundays, 8 p.m., fall) hosted by former MTV personality Jessi Cruickshank, and Of All Places, which explores small Canadian towns, airing mid-season.
CBC will also air acquisition series The Honourable Woman, starring Maggie Gyllenhaal this fall, and Secrets & Lies, a six-part miniseries, this summer. It's introducing a new one-hour block on Sunday nights called CBC Selects, which will feature programming from other public broadcasters from around the world.
Of note, however, is CBC's first official move into the dedicated online streaming space with the beta launch of a new portal called Punchline. Currently featuring made-for-web shorts based on CBC series (like Mr. D) and clips from shows like This Hour Has 22 Minutes, the portal may evolve to also include original-to-the-platform web shorts, user-generated content or stand-up, explained Sally Catto, GM of programming, CBC.
Conway also emphasized an increased focus on comedy and argued that with both news and Canada-focused drama, CBC will reflect Canada's cultural sector (its mandate) and create compelling content to attract advertisers, which it needs. "That's part of the goal of the conversations we are having internally – finding dollars to invest in the schedule."