CMT tests channel's new direction online
The Corus channel is launching its first-ever web series, Tornado Hunters, online with plans to use it as a launching pad for an eventual broadcast slot.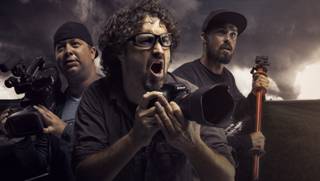 Corus Entertainment-owned CMT is launching its first-ever original web series, Tornado Hunters, and using the five episodes as a testing ground for an eventual broadcast debut of the show.
Tornado Hunters follows extreme weather chasers Greg Johnson, Chris Chittick and Ricky Forbes risking their lives to tackle the biggest tornadoes across North America in their pick-up truck Flash.
The show will launch its five episodes online on Monday Aug. 18, with prompts from CMT asking fans to provide input around the show through #CMTTornadohunters. Responses will be used to shape the show's pilot for broadcast, which will air at a later date.
Vibika Bianchi, VP, original programming of women's and family TV at Corus Entertainment, tells MiC that the show is part of a shift in direction for programming on the channel, looking towards more high-energy, dramatic and high-stake shows than it has previously commissioned.
That is all part of research the company has done to better reach CMT's target audience of adults 25 to 54, focusing in on suburban women, contrasting Corus Entertainment's W Network's focus on urban dwellers. Bianchi says posting the online episodes first allows the channel to test how the new content will work with CMT's audience, before the debut of the show on TV.
She adds the online episodes, which will all be available at once, were also made possible with help from the Bell Fund.