Discovery's fishy stunt
The media co has revealed the truth about a Shark Week promotional video that had people thinking twice about swimming in Lake Ontario.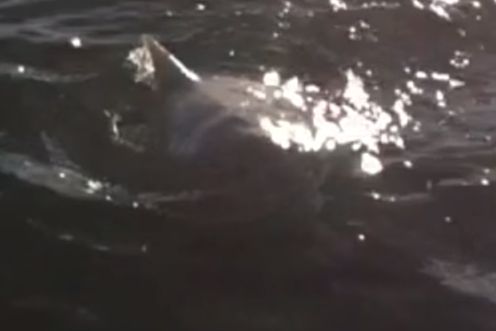 Hear about that shark in Lake Ontario? Discovery has revealed the truth behind the video, which had people second-guessing their summer swimming plans, saying the fish in question was a fake placed by the team to promote the upcoming Shark Week.
The video was released on YouTube last Friday showed two men fishing on Wolfe Island, near Kingston, Ont., where they encountered the "shark" in the water. Response to the footage had been picked up across national media outlets and prompted Ontario Minister of Natural Resources Bill Mauro to ask people to report sightings of the animal and stay safe.
Paul Lewis, president and GM of Discovery Networks at Bell Media, tells MiC the video was set to be the first piece of an evolving campaign to promote Shark Week, which runs from Aug. 10 to 16. The plan was for the video to live until Shark Week, but they decided to let the public know the truth about what was actually an "incredibly life-like prosthetic model shark" when discussions heated up.
"When people started talking about not swimming in Lake Ontario and the Minister of Natural Resources was commenting on it we realized we had a bigger fish on our hands than we imagined," he says. "So we did the reveal."
The campaign leading up to Shark Week was created by Bell Media's Brand Partnership's team for its lead sponsor Nissan, which works with OMD and TBWA.
Cosimo Prochilo, brand partnerships manager, Bell Media Specialty says the next phase in the campaign is on-air interstitials promoting "In Search of Canada's Rogue Shark," an online web series produced with the agencies and brand, set to launch during Shark Week.
The sponsored online series has a team crossing Canada in a Nissan Rogue to provide a better understanding of the country's shark population. It goes live with the digital content on July 28.
Lewis says he considers the viral stunt video a success because of the buzz it has created around the upcoming week of shark-centric programming, the biggest period of the year for Discovery.
"We are always trying to be creative, imaginative and try new things and that's what we tried to do here," he says. "There will be some people that will be upset about it, but I think that it has been a positive experience and has drawn attention to Shark Week in a way we wouldn't have been able to in a traditional [campaign]."
A spokesperson for Discovery confirms that no news outlets were given advance notice of the video being a hoax.