Behind AddMirror's new video tech
Details on the video and tracking capabilities that have been added to some of the screens from the Toronto-based company.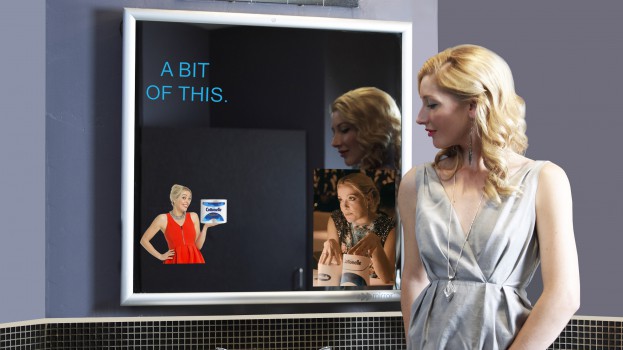 AddMirror has given some of its units a tech upgrade, allowing them to play video ads for restaurant patrons across Canada.
The company has a network of 250 screens hung as mirrors in restrooms at restaurants across Canada. The screens feature six media panels capable of showing advertising images under the mirror's glass once a motion detector has been activated. For 50 of the units, one of those panels has been replaced with one that is capable of playing video. This gives clients the option of repurposing video content from other platforms.
"We had potential clients who were interested in our units in the past but, [because of] either budget or time constraints, couldn't make something unique for the mirror's custom ads," Elliott Atkins, president of AddMirror Canada, tells MiC. "Video allows them to repurpose content they have already produced for other platforms and put it on the screen."
The new video units have been rolled out in locations across Toronto, Calgary and Vancouver for a campaign with Cottonelle. The company has plans to expand into Montreal this fall for future clients, with the number of units depending on the results from the other cities.
AddMirror's units earn 6,385 impressions every week and have engagement times ranging from 30 seconds to four minutes, according to the company's website.
The ad panels use tech provided by Waterloo startup Linkett to track views and break down results by time of day. This allows clients to run different ads during different parts of the day or on different days of the week. The units are also web connected, allowing for frequent updates to the displayed content.
Atkins says that the space for video ads will cost around 20% more than space for static images, depending on the specifics of the ads and how many different targeting variations a company is interested in. All ad sales for the units are done through AddMirror's parent company, Media City. Clients using the screens are given exclusive placement.
The initial run of the new video units is being done in locations that are representative of AddMirror's network as a whole, such as Toronto's Blu Ristorante & Lounge, Vancouver's Rogue and Calgary's Swine & Sow. While that network provides access to a full range of demographics, Atkins says that AddMirror's target market has always been affluent, socially active 25- to 40-year-olds who frequent restaurants in the downtown core in each city.