Flights of fancy: Rickard's and enRoute search for Canada's favourite bar
The beer co and Air Canada's in-flight magazine have partnered for a contest with hopes that partners, passengers and establishments will say cheers.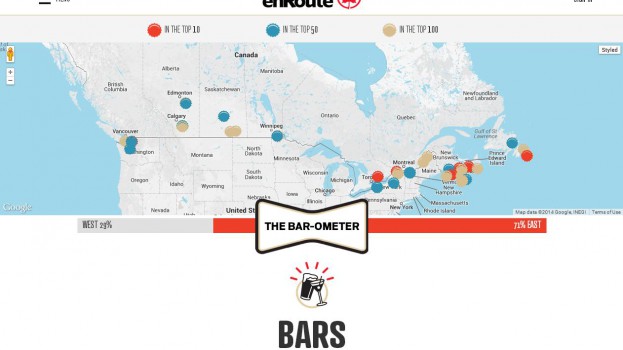 Rickard's and Air Canada's in-flight magazine enRoute are partnering for a campaign and project to search for Canada's favorite bars.
The campaign is aimed at reaching 19- to 35-years olds, a demographic that hits mix of both bar-goers and Air Canada's primary demo of customers.
"This is an audience that spends a large portion of their discretionary income on eating and drinking out," Nino Di Cara, executive VP of content marketing at enRoute's publisher Spafax, tells MiC. "It provides them a fun experience so they can plan their bar hopping in any province in Canada."
On the Canada's Favourite Bars website (Saycheers.ca), a list of more than 100 drinking establishments across the country has been compiled. Canadians can vote for their favourite bar until Sept. 8, and those who vote will also be entered into a contest to win a catered party at a nominated bar in their city. The winner of the vote will appear in the December issue of enRoute as part of the magazine's Canada's Favourite Bars feature, an offshoot of the Canada's Best New Restaurants annual feature.
The media buy on the campaign was handled by MEC with creative from Rethink.
Display ads directing people to the contest website will be on enRoute.aircanada.ca and Air Canada's website, newsletter and social media accounts, getting access to those who are currently or are about to travel with the airline. Di Cara says based on the reach the company saw with Best New Canadian Restaurants, the target audience is a digitally-enabled one.
Molson Coors, Rickard's parent company, approached Spafax about the initiative after seeing the Best New Canadian Restaurant features. The bars in the contest were selected by enRoute's editors and contributors, regardless of whether or not they were partners with Rickard's or Molson Coors.
"For Molson, what was of interest is not just that sweet spot of Air Canada affluent travellers, but that mass reach from social we saw with Best New Canadian Restaurants," Di Cara says. "By associating with the best bars in Canada, it also reinforces Rickard's position as a premium Canadian beer."
Di Cara says that a campaign like this drives a lot of earned reach for both the establishments and enRoute. While the bars get added exposure from the website and eventual magazine feature, they will help drive traffic to enRoute through badges on their websites, promotional cards in physical locations and simply by encouraging their patrons to show their loyalty.
"This delivers value to everyone: the readers, the establishments and the advertiser," Di Cara says. "Certainly this is driven by Rickard's, but we've also created a great editorial initiative around it."
The contest and web properties are centred around Rickard's, although there are sponsorship opportunities available in the broader coverage in enRoute, including sponsored editorial content in the magazine and integration in enRoute's video content.
EnRoute sees around 1.2 million readers monthly. Molson Coors also has a partnership with Air Canada that sees the beer co provide drinks to the airline's passengers and in airport lounges.