The beacons have landed
Hudson's Bay has signed a deal that will bring the mobile-connecting tech to its stores, starting today.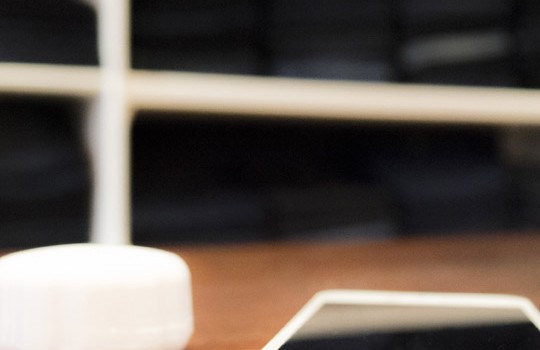 Beacon technology has landed across Canada, with Hudson's Bay launching the technology in five stores as of today, including its flagship Queen Street store in Toronto.
The launch is in conjunction with Swirl, a Boston-based beacon marketing company, which has also worked with retailers like Timberland and Kenneth Cole to incorporate the mobile-linking technology into its stores.
Beacons are low-cost battery operated pieces of technology that send out Bluetooth signals from its place in a brick-and-mortar location. Geofencing, which uses GPS data, can target users within a radius of a couple of blocks, but beacons can target users in a range as wide as 100 feet or as accurately as by a single foot. This means companies can target users as they enter a store, when they are in a particular aisle or even standing in front of a specific product. Each beacon is about the size of half a hockey puck.
Hudson's Bay is using Swirl's beacon marketing platform to connect consumers with in-store beacons and provide targeted content and offers based on their specific location and behaviour within the store. In order for consumers to receive information from the beacons they need to have the Hudson's Bay app, or a third-party app called SnipSnap.
Hilmi Ozguc, founder and CEO of Swirl, tells MiC that Hudson's Bay will be rolling the technology out to its other stores in the coming months.
He says that in addition to targeting content to consumers based on the area of the store they are in, beacons can also measure the amount of time the person has been in that zone, allowing for targeted messages based on that data.
Swirl's platform uses Bluetooth Smart and Apple's iBeacon technology to deliver the targeted content within the stores with which it works.
Scott Varland, creative director at IPG Media Lab, recently told MiC that the Bluetooth-based technology is easy to install and maintain. He acknowledges that the way beacons have been used thus far has been "fairly minimal" and is hoping companies will begin to build beacon capabilities into existing apps.
"We're of the opinion that consumers are going to get tired of their phone being brought out non-stop for things like deals and discounts," Varland said. "It's about identifying a media owner that has scale in terms of users that can integrate beacons into their app and crafting experiences around them."
The Hudson's Bay Company saw retail sales of $1.85 billion for the first quarter of 2014, up from $884 million in the same period last year. Beacon technology will also be incorporated in Lord & Taylor stores in the US, which is also owned by HBC.
With files from Josh Kolm
Image courtesy of Swirl