How beacons can beckon buyers
PCG CEO Deborah Hall and Juice Mobile's Neil Sweeney on the best practices around the emerging tech as it reaches retailers in Canada.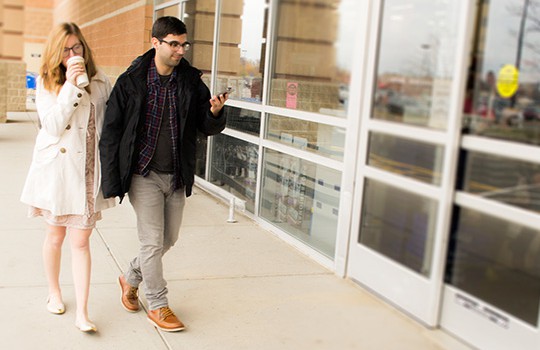 With HBC announcing the implementation of beacons in five of its stores, the proximity mobile technology has hit mass-market retailers in Canada.
The use of beacons is a newer phenomenon globally and, aside from a few one-off showcases, this is the first time they've been used in Canada on a mass-market level. That doesn't mean the Canadian market is lagging behind other countries like the US, since getting the physical beacon technology is not where the challenge lies – it's in how they are utilized, according to Neil Sweeney, president and CEO of Juice Mobile.
"[The US market is] not that far ahead because they're suffering the same challenges," he tells MiC. "The analytic platform still isn't as tight as it should be because there is no common framework, and you need that for the technology to be successful because that's how you work with consumers on scale."
Deborah Hall, CEO of the Performance Content Group, says having a flagship Canadian retailer put a big push behind beacons is a step towards getting more companies involved and having those analytic issues resolved.
"For anyone that is on the fence, I certainly think this would convince them to try it out, at least on a pilot basis," she says. "I really think this is really what we've been waiting for. It's the other half of the ecosystem talking back and giving the ability to apps to be smarter than they've ever been."
Hall says what is exciting to her from a media perspective about beacons is the ability to create a fully-rounded data picture of consumers by combining it with other data, which had previously been less robust in brick-and-mortar environments compared to the digital marketplace. Proximity data could be combined with data from apps or Google searches to serve specific ads to consumers, but could also be used by retailers to measure how many shoppers see which displays in which parts of a store.
"The beacons tell a certain amount, but you need to tell the whole story," she says. "We're going to see a whole programmatic shift in terms of the messages being served, and beacons can provide a lot of extra layers in the consumer picture."
Juice has also been working on doing more proximity marketing since its acquisition of Gauge Mobile in January. Sweeney says the interest is going to be there for any technology that can provide more accurate targeting, but companies have to do something that provides interest for the consumer as well.
"The data we've compiled says that two-thirds of people [in Canada] are willing to receive notifications on their phone that are location-aware and relevant," he says. "But that's only if there is value for individuals and if you give an offer that's appealing."
Hall says one of the ways to get consumers to the new tech is for companies to push for the integration of beacons into apps other than their own.
"I think you'll see mobile apps that everyone already has being beacon-capable, and not just the store apps – social apps, utility apps or even games that are on everyone's phone. Imagine something like Candy Crush being able to deliver things to consumers that are valuable to a brand."
Hall says PCG has been working with clients who do not have their own apps on pilot projects that will allow them to use beacons to deliver programmatic messages and utilize the full scope of data.
With beacons, users need to have the Bluetooth receiver on their device on and opt-in to receive messages. Sweeney says the way around this is to make it known to consumers that they will be given something of value by accepting these messages, but Hall says whatever drop-off there is with the layers of access beacons need, it will still be less than those seen with coupons and loyalty card programs.
"Instead of a coupon market that's built on consumers not taking advantage of deals, they now get to know about them and get reminded of them with beacons," she says. "I think there's a real value proposition in the convenience of being able to get these deals easier."
A recent example of beacon use from the US came from Hillshire Brands partnering with American media buyer BPN and using InMarket's Mobile to Mortar network of beacons for a campaign promoting its American Craft Link Sausages in 10 US cities from April to June. IPG Mediabrands reported that consumers exposed to the messaging through one of InMarket's app partners were 20 times more likely to make a purchase than those who weren't, a 500% increase compared to a typical mobile ad for a CPG brand, which usually makes consumers three to four times more likely to purchase. Hillshire received a 36% boost in awareness for the American Craft brand as a result of the three-month campaign, hitting 6,000 user engagements within the first 48 hours.
Chris Hiland, chief growth officer at BPN, says BPN will take its results to one of its Canadian affiliates for a CPG campaign to be announced in the near future.
Image courtesy of Swirl