Parents aren't the only ones buying big for back to school
Staples is bringing a more focused digital approach to its biggest digital media buy to date.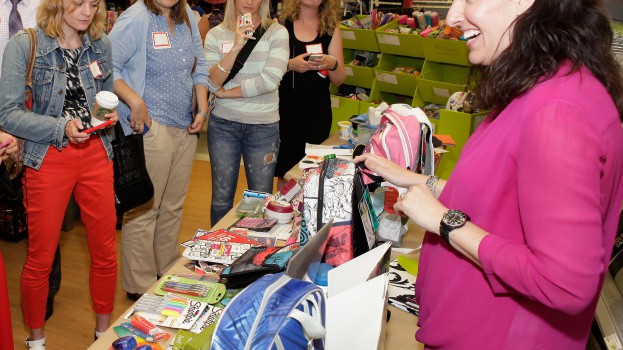 Staples' biggest media buy of the year always comes before back-to-school season, but this year, the company has invested more into the digital elements than ever before.
"We're doing more ads where you can link right to the actual product to get it online," Sandy Salmon, director of advertising at Staples Canada, tells MiC. "Overall, just doing a lot more conversion-type buys than we have in the past."
Even the campaign's traditional ads are very digitally involved. TV spots and online video ads showing shoppers and store associates doing the "shopping cart dance" have been partially crowdsourced, with some featuring winners of last month's "Make 15 Seconds of Fame Happen" online video contest. The full scope of the campaign includes radio spots, digital display ads, social media outreach, flyers and email marketing, all of which are directing customers to the online portal as much as they are to the brick-and-mortar locations.
"Far more of our customers are going online to make more purchases and do more research than in years past," Salmon says. "We created a bigger back-to-school microsite than in the past and are trying to direct more traffic to that. I think we're just more prepared than we have been in other years to get the message out online."
Staples worked with Dentsu on the creative for the campaign with its media arm Aegis handling the media buy.
The company's target for the campaign is mothers between the ages of 25 and 54 with kids between the ages of seven and 17, as it typically is for back to school. Even though the campaign is utilizing multiple platforms, all of them are being used to target the same wide demographic range. The more specific targeting is happening not based on where moms of a certain age are likely to see or hear an ad, but where moms looking for specific products are going to see or hear them. For example, parents on technology websites are more likely to see ads for laptops and printers instead of more elementary school supplies like binders and coloured pencils.
"There are some differentiations, depending on where those ads are living, as to what they'll see," Salmon says of targeting based on what a parent is looking for instead of age. "Tech purchases years ago would be going more towards teens and first-year college students, but now you've got tech in the classroom as young as seven or eight."
One of Staples' school and office supply competitors, Grand & Toy, shut down all its physical stores earlier this year. Salmon says, however, that the company's big media buy this year is less about cornering a more open market and more about addressing competition from discount-price-oriented retailers like Target and Walmart.
"We wanted to make a disruptive pricing campaign to differentiate us and shift price perspectives," she says. "We want to drive home the point that when [parents] choose us for back to school, they are still getting the lowest prices available."