The Globe uploads an Android app
The national newspaper is delivering a curated experience to readers and advertisers on a new app exclusive to Android tablet users.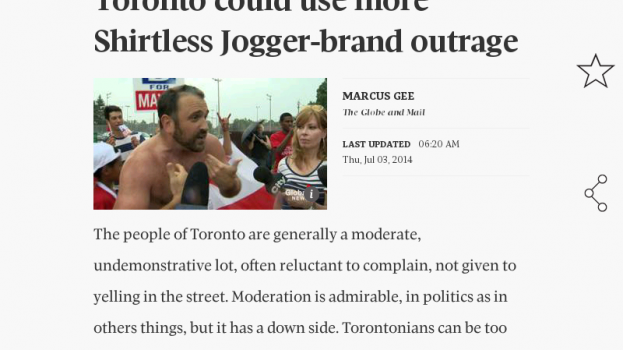 The Globe and Mail has launched an app for Android tablet owners, bringing a curated reading experience from Canada's national newspaper.
The new app was developed to specifically cater to Android tablet users with an interface that matches their behaviour. Users swipe down to see full-page versions of stories in a lineup curated by the Globe's editorial team. After scrolling through ten stories, users can then swipe to the left or right to access different sections, such as the most-read stories of the day.
Interspersed between the editorial content will be full-screen ads that are delivered in the same way stories are. The whole experience allows users to focus on one thing on the screen in front of them, without competing aspects that divert the reader's attention.
"The ads are part of the flow, not beside the story or pop-ups that intrude on the reading experience or compete for attention," Angus Frame, VP of digital media and technology at the Globe and Mail, tells MiC.
The app is plugged into the newspaper's main ad trafficking platform, which can target based on location, time of day and the subject matter of the stories being read. Frame says his team is also working on an onboarding process that will allow users to provide more personal data to the app that can further customize the content and advertising they see. That aspect of the app will be rolled out as more users begin using it.
Frame says 40% of the Globe's digital readers are accessing content through a mobile device. The majority of Globe readers are between the ages of 35 and 64, and Frame says much of the audience research the newspaper has done shows that the growth of Android tablet users aligns with areas of audience growth it is focusing on.
"Android tablets are popular with the early adopter cohort, who are tech-savvy, broad-interest individuals that are adopting the platform earlier than others, typically 35- to 45-year-old males," he said. "But we also see the tablet being more popular with a younger demographic. There's an opportunity to give the experience to newer readers of the Globe as they grow and become part of the core demographic."
Although the app is for all Android tablets, it was optimized for use on Samsung's new Galaxy Tab S. Users will be able to access the app on a free six-month trial basis, although the Globe has reached a deal to extend that trial to one year for those using it on a Samsung device. Following the end of the trial period, users can either subscribe to the newspaper's Globe Unlimited digital subscription package, or subscribe only to the tablet app at a discounted rate.