Do you believe?
Vision TV is engaging viewers of The Conspiracy Show with a new website that aims to spark debate around its programming.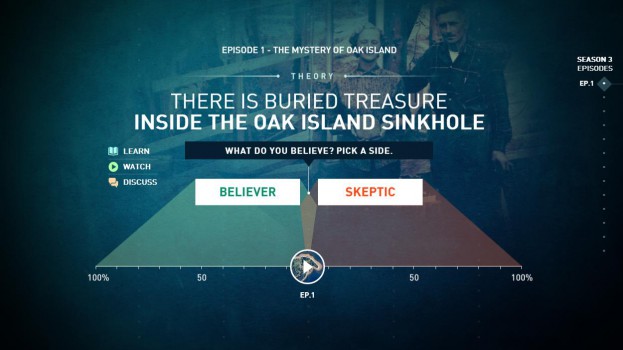 Vision TV is fueling the flames of debate sparked by The Conspiracy Show through a new website produced by Toronto-based interactive agency Secret Location.
Launching in conjunction with the show's third season on Aug. 11, the website features extra video content from each episode of the show as well as further research on a given episode's subject. After diving deeper into the conspiracy, fans can decide whether they are a "skeptic" or a "believer" on topics ranging from the government controlling people's thoughts to cover-ups for a cure for cancer to whether or not Jim Morrison is still alive.
The website compiles and gauges the voting results in real-time, so fans can see how their opinions stack up against those of others. They can also engage in debates through an embedded Facebook feed or share their vote on whichever social network they choose to engage others and bring them to the site.
The Conspiracy Show is a televised spin-off of Richard Syrett's syndicated radio program of the same name that broadcasts from Zoomer Radio's The New AM740. The show is also distributed as a podcast, episodes of which can be accessed directly from the new Conspiracy Show website.
"We wanted to make a big splash for the third season and engaged Secret Location to come up with ideas on how to make that happen," Joan Jenkinson, VP of independent production at Zoomer Media, tells MiC. "We felt it was the right time to do something this extensive that engages the program's entire following."
Vision TV's audience is typically above the age of 45, although the subject matter on the show does have a secondary appeal to the younger, sometimes conspiracy-obsessed internet culture. Jenkinson adds that the radio program's syndication and availability as a podcast has given it an international audience.
"Everybody always has a theory and likes to share and interact with people who agree with them and then engage with people who don't," says James Milward, executive producer and founder of Secret Location. "We wanted to create a site that was a rapid and addictive way to see content from the show and but also engage that need to chime in."
The website is supported with pre-roll and mid-roll ads on video content provided by Zoomer's existing advertisers, such as Via Rail. Currently, there are no exclusive sponsors for the website, but opportunities exist to get involved through video ads, with Zoomer rolling out podcast advertising in the near future, says Jenkinson.
Promotion for both the program and its website will be done through all of Zoomer's digital, social and broadcast properties.