How public do you want your PDA to be?
Durex Canada is experimenting with combining social media and digital with a new campaign that puts couples on display at Toronto's Yonge-Dundas Square.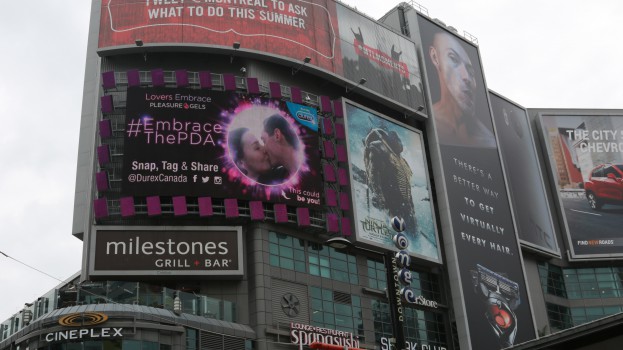 Durex is including its customers in promoting its Lovers Embrace Pleasure Gels by putting their public displays of affection out for the world to see.
The company is asking Canadian couples to post photos of themselves displaying their affection for one another and tagging it with #EmbraceThePDA on Twitter, Instagram and Facebook. Approved photos are pulled into Durex's Facebook photo album and around 50 couples will have their photo displayed on a "kiss cam"-style digital screen at Yonge-Dundas Square in Toronto between now and Sept. 15. Five of the couples displayed will win a $500 prepaid credit card.
More than 65,000 people walk through Yonge-Dundas Square every day. The media agency is Aegis Canada, which developed the OOH and digital strategy. The creative on the campaign was done by Maverick, which handles Durex's social media and public relations.
This is the first time Durex has integrated its social media with an OOH campaign and the first time the company has utilized a digital screen since its acquisition by RB Canada in 2010. Yvonne Chan, brand manager at Durex/RB Canada, tells MiC that while #EmbraceThePDA is the largest campaign the company is running this quarter, the amount of the buy is in line with its usual social media spending, just utilized in a different way.
Durex usually centres all of its advertising around a single product, and Chan says this is one of the few times the company has focused on something that isn't a condom. Because the campaign is promoting a product Chan says is more likely to be used by those in long-term relationships, it directed the campaign in a direction that is more about celebrating affection than the sex-focused advertising in its previous campaigns and those of Durex's competitors.
"It's not all about the bedroom, but also what happens outside of it that we believe is just as meaningful and rewarding," Chan says.
Durex is targeting couples between the ages of 18 and 34 during the campaign. Through the board at Yonge-Dundas Square and the photo album on Facebook, the company is providing a nationwide audience for moments young couples are sharing anyway.
"We're not asking them to do anything that they're not already doing, which was the key insight into the development of our strategy," Chan says of using social media to reach the younger demographic. "It's easy, it's fun, and the result is an amplified extension of what has become a day-to-day norm for them."