The Verdict: Promo on the go for Mad Jack
Molson Coors is driving awareness for its newest product with geofencing and a game in Toronto's taxis.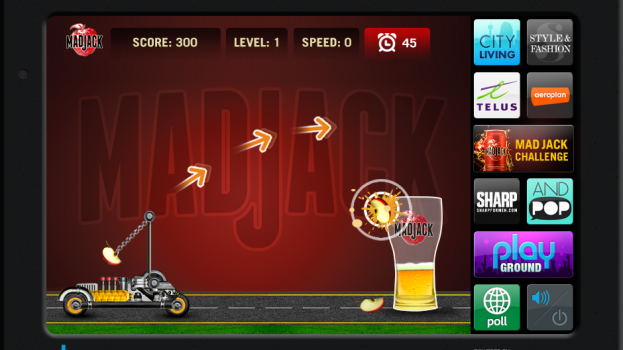 Molson Coors is going after Torontonians on the go, promoting its new Mad Jack Apple Lager with an interactive game inside taxis across the city.
The game is accessed on Play Taxi Media's network of interactive touch-screens found in the back of taxi seats. Mad Jack was launched in June as a drink that aims to find the middle ground between beer and cider, so to enforce that message, players arm a slingshot with apple slices and launch them into a moving pint glass, trying to fill it before time runs out. In between levels, trivia questions deliver facts about Mad Jack, such as its flavour and exclusive availability in Ontario at The Beer Store.
"We don't have the big budget some of the other brands do and if we were playing in the same space, we probably wouldn't land the same results," Sammy Rifai, senior media planner at MEC, tells MiC of the choice to use a taxi game to promote Mad Jack. "We felt that incorporating those unique locations and touchpoints would help separate us."
Molson and Play worked with MEC on the media buy for the campaign with MonkWilliams handling creative.
Since the campaign's launch one month ago, over 1,900 hours of play time have been logged on the game, with riders spending an average of two minutes engaged each ride, which is more than twice as long as Play's average engagement time for alcohol brands. The game has also gained over 3 million impressions across 1 million passengers, with 5.3% of passengers entering and playing the app.
"Molson saw a holiday campaign we did for Forty Creek [Whiskey], so we both knew this was the best practice," Christina Williams, national director of sales, marketing and communications at Play Taxi Media, tells MiC. "[Molson] wanted to highlight the apple being with the beer in a fun way that would help [riders] remember a relatively unknown product when they leave the experience."
This is the first time Molson and Play have worked together, although Williams says that campaigns for alcohol brands are among the company's most successful, which Play reports having a 60% unaided recall rate. Play's data also says that beer drinkers are more likely to take taxis than the general population, and that Canadians between 18 and 34 are the most strongly represented among the riders interacting with Play's screens.
The campaign is targeting adults between 25- and 44-years-old, skewed slightly towards males. Rifai says that the consumer profile they compiled suggested that the target was busy and frequently on the go.
"We know that target is commuting quite often, especially in Toronto," he says. "They're busy and on the go in general, so being in taxis is a good way to reach them."
That on-the-go aspect of the target audience has also driven the rest of the promotion around Mad Jack. This includes an out-of-home campaign on static billboards, but MEC will also be geofencing Toronto's Beer Stores. Going live in two weeks, anyone on their mobile device within a two kilometre radius of a Beer Store will be delivered a display ad for Mad Jack in their browsers. Clicking on that ad can take the user either to the product website or a Beer Store locator map.