Former CBC director aims to shake-up digital media with launch
Tessa Sproule (pictured) and fellow ex-CBC staffer Katie MacGuire on Vubble, their upcoming service that aims to alter the way people get short-form video online.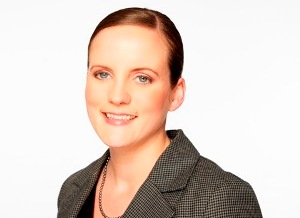 What's a Vubble? Tessa Sproule, former director of digital at the CBC wants people to start asking that very question, because it's the name of her upcoming short-form video service being created in partnership with fellow former CBC staffer Katie MacGuire.
The site's Facebook page describes the upcoming launch as being "a digital media service that merges human curation with artificial intelligence to bring you the best on-demand short-form video on the web."
Vubble (a combination of video and bubble) aims to shake up the way people consume news and current event content online, something Sproule says has been a long time coming for people between the ages of 18 and 34 who get the majority of their news through platforms like Google and Facebook.
"Right now if my son searches for Sept. 11 he might get a long-form article from the New York Times, a video from TMZ or a piece on conspiracy theories, depending on his search history," says Sproule. "I wanted the audience to have more power to be active in the consumption of a media story and get rid of the smoke and mirrors around it."
While details around the service, which aims to launch in beta this October are still being planned out, Sproule says the idea is to provide a website and possibly also an app where people are served a selection of short-form news and current events videos.
The new service will be provide content filtered through a search algorithm such as Google's (which customizes items shown in search based on location, etc), as well as curating media content from outside the user's typical digital sphere (which can become narrower over time based on how a user finds news).
Videos on the platform will not be created by Vubble, instead they will be served from sites around the web that provided embeddable video like YouTube, Vimeo and Daily Motion. Selected videos will be placed on the site and curated through a combination of algorithms built in partnership with Waterloo, ON-based Primal and a team of editors who will be tagging content into categories that are personalized to each user, similar to Netflix, says Sproule. The twist is that editors will be using the same algorithm to occasionally serve pieces outside the user's comfort zone.
Sproule says all content on Vubble will be video-based because that's the dominant medium for the target audience.
Revenue on the site will be generated by selling aggregated market research around the site's target user base of 18- to 34-year-olds, says Sproule.
"This audience is incredibly difficult to understand in terms of what they're sharing and not sharing, what they're interested in, and not because they don't do things en masse," she says. "They don't have land lines or fill out long-form surveys."
Sproule says that Vubble will stand out from similar sites by combining a tailored news feed that relates to each user's personal interests as well as showing them things they might not normally look at.
"We want to make it about things that are outside people's comfort zones and make it okay to dive into the tough issues," she says.