Going digital for back-to-school: MiC Tour
From image recognition to augmented reality, M2's Will Pate and PHD's Rob Young analyze the digital strategies of Target, Office Depot and Dell.
Back-to-school season is just as much about hitting the wallet as it is about hitting the books. This year more than ever, brands and retailers are turning to digital platforms, both to enhance their traditional back-to-school promotions and to better appeal to their target markets.
Looking stateside, our tour examines how Target is making buying faster with image recognition, how Office Depot is utilizing augmented reality to excite kids on social media and how Dell is using product placement with a new generation of digital stars to sell tablets to college students.
Here's what Will Pate, VP of digital at M2 Universal, and Rob Young, senior VP and director of insights and analytics at PHD Media, have to say about whether or not these campaigns make the grade.
Target's "In-a-Snap" image recognition app
Trying to make its traditional media relevant in a digital age, Target has launched a mobile app that allows users to take a photo of a product in a flyer or print ad. Using image recognition, the app then directs the user to an e-commerce site in-app to make a purchase right away.
Pate: Besides reducing the friction between seeing an ad and making a purchase, this is a chance for Target to extend its print and OOH budget. You're not going to give those other platforms up, because as great as digital is, it can't reach everyone all the time. It's a valid way to not abandon your traditional assets by extending them into the digital realm. It's easy to imagine them using audio recognition of radio and broadcast to trigger e-commerce as well.
Young: The mobile app is free of charge. Just go to the iTunes website and download onto a device – but you might have some difficulty finding the right app (at least I did). Once found and successfully downloaded, fire it up and hover over Target print ads or pages from the fall catalogue – but only if the pages sport a logo. In this way, the item, once recognized by the app, can be shopped through Target's e-commerce site with Zappar-like technology. Or, just go to the e-commerce site and get what you want. In the tug of war between utility and cool, utility usually wins.
Office Depot uses augmented reality to place students on the stage with teen sensations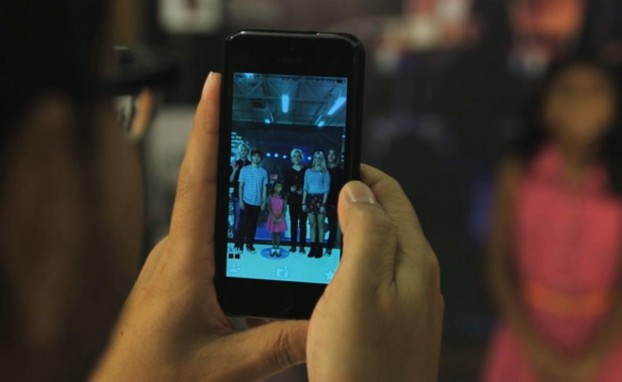 Office Depot is hoping to make kids more excited about being dragged along on school shopping trips. After seeking out in-store displays that, through an augmented reality app, places them on stage with teen heartthrobs R5, kids can post the video to Facebook and take screen grabs to be posted on Twitter and Instagram with the hashtag #INSPIR5D. The store is also distributing a mobile-enhanced sheet of R5 stickers that unlocks exclusive content when scanned.
Pate: When parents are having that conversation about back-to-school shopping, if the kids know about this, they will be influencing the decision about whether they go to Office Depot or a competitor.
Fans can't help but share being placed in the middle of a premium content experience on social media. They're also encouraged to reach that minimum $75 spend threshold to get stickers that will make their way onto lockers and notebooks, and that provides a value-add for shoppers and an experience they can share with friends at school.
Young: As a young, back-to-school potential customer approaches the Office Depot store, they will be encouraged to, once again, download an app. Shoppers can pose next to the virtual band and become virtual friends with Ross, Riker, Rocky, Rydel and Ratliff.
This is a connect strategy. This band is cool, we're with them and, therefore, we're cool. But is the band really hanging out at Office Depot? A wanna-be perhaps? Uh oh.
Dell gets YouTube influencers to drive students to tech purchases
Partnering with Defy Media's SMOSH, one of the most-subscribed channels on YouTube, and musicians Kurt Hugo Schneider and Sam Tsui, Dell is hoping to utilize their influence to get college students to buy the new Venue 8 tablet through sponsored videos.
Pate: These online personalities and their brands are not to be underestimated. A recent survey from Variety showed that YouTube stars are more important to teenagers than Hollywood celebrities, holding all of the top five influencer spots among American 13- to 18-year-olds.
Young: Hilarious? Not really. Entertaining? Not really. Cool? Not really. Great product placement? Not really. I guess it's all in the execution.
Overall thoughts?
Pate: These examples are great thought-starters for Canadian marketers, and they demonstrate a few principles that will help them use technology in smart ways: removing friction between awareness and purchase, creating experiences people are excited to share, and partnering with a new generation of talent that thrives in digital channels.
Young: Here are three examples of marketers who share a need to perform well in this second most important sales time of the year. All three marketers are probably not regarded as being particularly "cool" by their young millennial back-to-school customers. But all three marketers hope a digital extension to their back-to-school campaign will help create a "cool" badge while activating that all-important sales period. The moral of the story is marketers must earn their cool badge. There is no digital extension shortcut to coolness.