Telus gives it away in Vancouver
The mobile phone company has partnered with Lamar Advertising to make free Wi-Fi available for transit-goers on three popular routes in the city.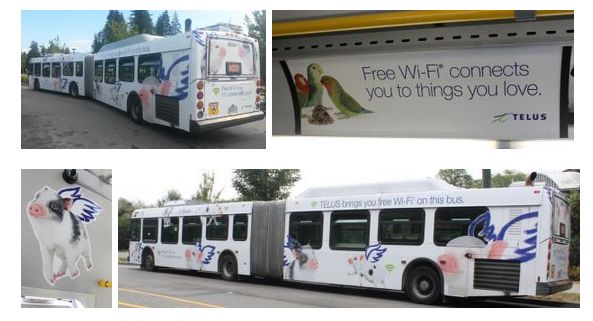 Telus is giving bus riders on three popular Vancouver routes free Wi-Fi access through a recent partnership with TransLink's advertising representative Lamar Advertising.
The initiative marks Vancouver's first Wi-Fi-enabled buses, with vehicles on three popular routes getting wrapped, alerting users that they can get online without using their data.
Telus is the exclusive sponsor on the three wrapped vehicles in the pilot campaign that started at the beginning of August and will run for the next six months. Dan Maure, general manager at Lamar Advertising, tells MiC that the ad option is being put forward to other clients for future wraps.
Commuters who board the Wi-Fi enabled wrapped buses are prompted with a Telus branded option when they connect to the internet.
A similar Wi-Fi initiative was launched last year in Toronto, with a new program called TConnect bringing free connectivity to people travelling through St. George and Yonge-Bloor stations.