The Verdict: Much Ado About Facebook Targeting
How the Stratford Festival used new media tools to target new patrons and triple its ticket sales.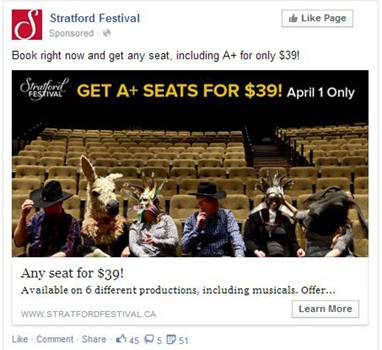 Stratford Festival aimed to reach out to lapsed and new patrons with a new media buy this spring, using targeted Facebook ads for the first time.
The festival ran targeted ads on Facebook during the five days leading up to its annual April Fool's sale. Specifically, the company was hoping to reach out to new patrons, as well as "lapsed" patrons who may have attended once or twice before, using the social network's Audience Insight tools. The tools allow brands to target sponsored posts to users based on interests, liked pages and attended events.
"We find that people who come once get hooked on it, and then they bring family and the special people in their lives," Anita Gaffney, executive director at the Stratford Festival, tells MiC of why the group targeted new patrons and timed it during the April Fool's sale. "[April Fools is] kind of a nice time, right before we open, to create awareness about the season coming up and to encourage some ticket sales for the earlier productions."
Gaffney says that while Stratford spent about the same as it typically does in online promotion this year, the company saw a bigger return on its dollar than ever before by using it in a more targeted way. There was a three-fold increase in the number of tickets sold, revenue generated and in sales specifically from new or lapsed patrons. Overall, there were 6,600 tickets sold during the sale, up from 2,300 in 2013. All of the creative and media buying was handled in-house.
Even though it is too early for the company to have specific plans locked down, it is intending to increase its digital spend for next season.
"We're not into details yet, but we will be looking at doing more of the targeted marketing because it's very much an extension of the direct marketing that we have been doing for years. More and more is also dedicated to that because we can track the results."
Doing online marketing isn't totally new for Stratford. It utilizes display advertising and remarketing, delivering ads to those that have previously visited Stratford's website. It also has an active Facebook page, generating discussion about the festival's productions and answering questions from patrons, as well as a direct-purchasing app on the social network. However, most of Stratford Festival's overall marketing budget has gone towards traditional platforms and has typically revolved around direct marketing initiatives, such as direct mail and newsletters.
"We've been using our own database and slicing and dicing to be able to do very targeted communication to our regular patrons for a long time," Gaffney says. "We have a good sense of what those people like to see, what time of year they come, when they purchase tickets, where they tend to stay and other things that they do around town."
It was because of that history of direct marketing that the company was able to run an efficient digital campaign: Stratford had a lot of insights about the interests and habits of their typical audience member and were, therefore, able to provide extremely accurate profiles of who to target with Audience Insights.
"Facebook feeds nicely into [direct marketing] because it provides another platform to connect with those that have interest. Because we have a good understanding of our patrons, we were able to feed Audience Insights information so that we can really find those individuals that match the current audience," Gaffney says, adding that the targeting wasn't just at Shakespeare fans, but those who were interested in things like the music of Gershwin or had seen productions of Man of La Mancha.