Ikea goes mass to get personal
How the brand maximized its OOH spend while targeting individuals for its latest catalogue campaign.
Ikea wanted to buy mass, but get personal with this summer's catalogue campaign, which centres on the tagline "The Most Helpful Book in the World." The campaign's target is women aged 25 to 54 with the overall aim being to show them the ways the catalogue can solve their life problems.
With media from Jungle Media, creative from Leo Burnett and PR from Citizen Relations, the media buy and placement was planned  to capitalize on creative that highlights the idea that the Ikea catalogue can solve "problems for their everyday life at home" for the consumer, Janet Xi, media planner, Jungle Media, tells MiC.
"Leo Burnett came up with the foundational concept, and we thought it was simple and powerful," she says. "We went in with a strong OOH base buy because it's a platform that can convey messages quickly."
To maximize the OOH budget Jungle used a mass buy to purchase the faces but then worked with vendors like Pattison and CBS to cherry pick locations that worked best for custom messages, says Xi. Those included signs like "Pg. 29 makes getting home late easier" on the Gardiner and highways and "Pg. 210 helps with your new arrival" placed one block away from Toronto hospitals with maternity wards.
The ability to do a mass buy and then select locations for custom creative kept the OOH budget at the same level as last year, says Xi. If the brand had bought the location-based signs individually the costs for the platform would have been much greater.
That personalized theme carries through to digital, where a banner ad placed on sites like Canadian Living, Style at Home, AOL Canada and Food Network Canada asked consumers to respond to "What can The Most Helpful Book in the World do for you?" They would then be directed to a page from the catalogue that best dealt with their query.

Targeted newspaper spots have ads running alongside relevant copy like "Pg. 297 improves your game" in sports sections and "pg. 280 gets you the gig" in the career section.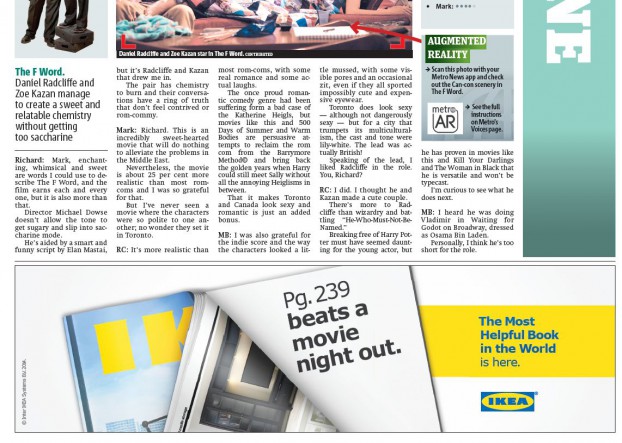 Creating the most personal connection of the campaign is the experiential touring "Most Helpful Button in the World" event, which dispenses branded measuring tapes from the store. That event has upcoming stops in Toronto at the Eaton Centre (Aug. 29 to 30) and Liberty Village, as well as the Beaches (Aug. 31).
Branded segments on CTV's Marilyn Denis Show are also part of the campaign, with each promotional spot having an expert designer sharing tips and how they relate to products from the new catalogue.
The campaign will be in market through the start of September.