Data Dive: How Canadians are using mobile
Mindshare Canada shares its first Canadian-specific Mobile Mindreader study, detailing how people use the devices in their daily decisions.
Canadian mobile use is on the rise, with 2014 numbers indicating that 40% of Canadians now own a smartphone and 38% of people over 16 having a tablet, according to data from GroupM's "This Year, Next Year Interaction 2014″ study. But how are they using those devices to inform buying decisions?
That's what Mindshare Canada sought to find out with the Canadian version of its global Mobile Mindreader study. The survey asked 3,000 Canadians, an even mix of Anglophones and Francophones, with the goal of understanding the role mobile plays in the decision making process of purchases.
Automotive:
According to the study, of those who bought or leased a vehicle or helped someone make the purchase in the last six months, 34% of them came across something on mobile that made them consider a new vehicle, compared with 20% on PC.
Groceries:
Of people who said they had gone grocery shopping in the past seven days 21% of men said something on their mobile devices had sparked the idea of going to get groceries. In all 21% of men and women said they created a shopping list on their mobile device before going to the store, with that number going to 30% when women responded.
Read on to dive deeper into details on how mobile is impacting purchase decisions for Canadians: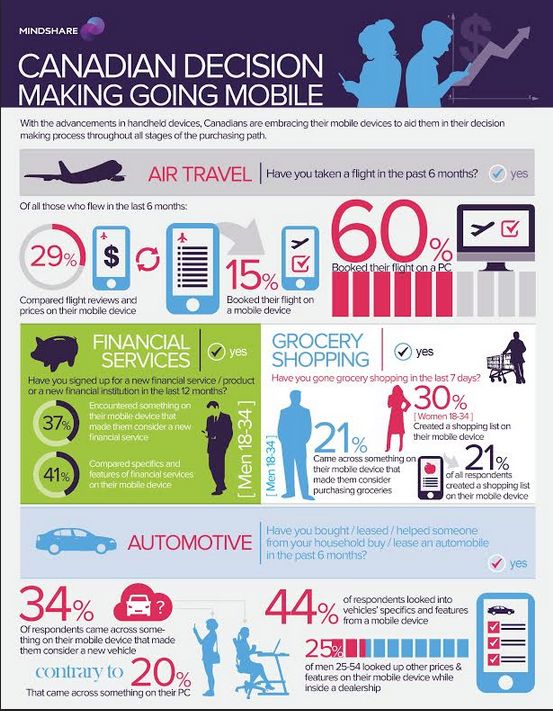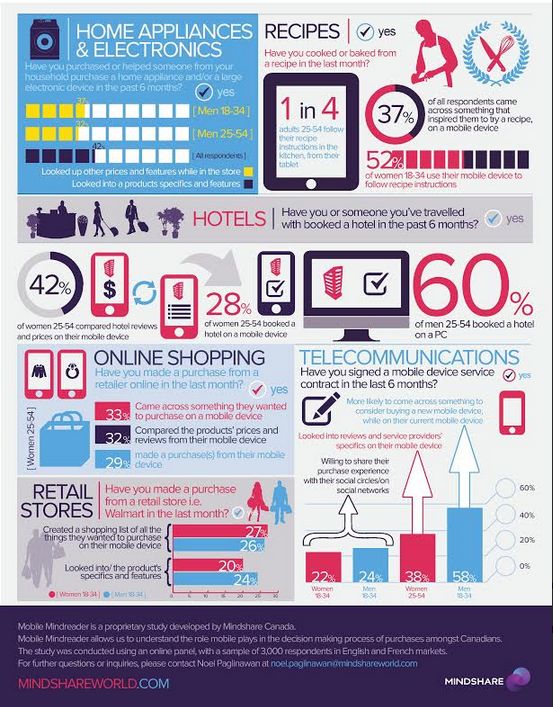 Image courtesy of Shutterstock