Traditional TV viewing down as digital goes up: CRTC
The results of the regulator's annual broadcast report, with numbers pointing to more multi-platform viewing.
Canadians watched television programming across multiple platforms at a greater rate than ever in 2013, resulting in an overall boost in weekly TV viewing hours, according to the 2014 Communications Monitoring Report from the CRTC.
Overall broadcast (radio, television, broadcasting distribution undertaking, specialty and video on demand and pay and pay-per-view) revenues increased 1.3% in 2013, reaching $17.1 billion, up 1.3% from 2012. The sector invested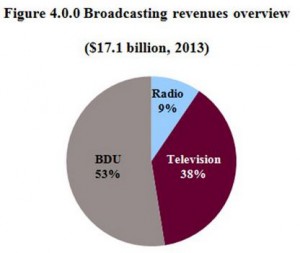 $2.7 billion into the creation of new Canadian content, and $52 million into the creation of Canadian audio content and to support artists in the country.
Radio revenue came in at $1.6 billion for the year, up 0.2% from 2012. Television revenue was down by 0.2% for the year, coming in at $6.4 billion. BDU revenue was up 2.7%, coming in at $8.9 billion.
The top five broadcasting companies – BCE, Shaw (including Corus), Rogers, Quebecor and Cogeco – brought in 85% of revenue in the industry in 2013, up from 81% in 2012. The few broadcasters that operate in all five areas of broadcast brought in the majority of revenue in 2013, according to the report.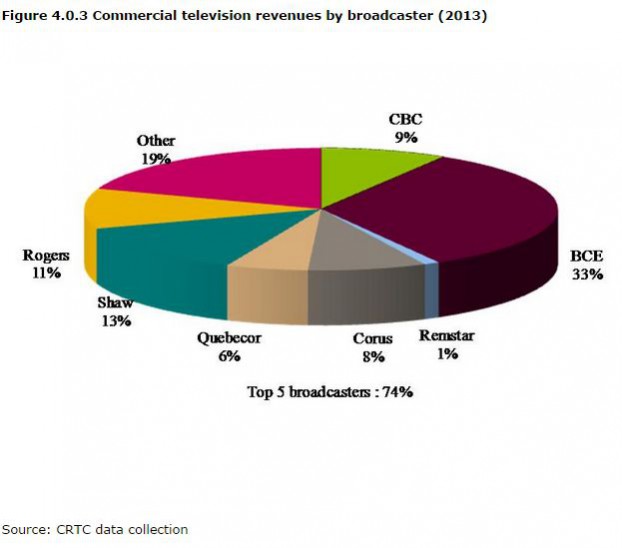 Video consumption:
Traditional television viewing dropped slightly in 2013, with the greatest decline coming from 18- to 34-year-olds, where average viewing dropped 3.9% to 21.9 hours per week in 2013 from 22.8 hours in 2012. Overall traditional TV viewing came in at 27.9 hours in 2013, dropping from 28.2 hours in 2012.
Cable and satellite services were subscribed to by 84.9% or 11.92 million Canadians in 2013, down slightly from 85.6% or 11.93 million in 2012.
That viewing was supplemented by a growth in viewing for internet TV with adults watching 1.9 hours a week in 2013 compared with 1.3 hours in 2012. Overall 42% of English-speaking Canadians and 39% of French-speaking Canadians were watching internet TV in 2013, that's up from 38% and 34% respectively in 2012.
The percentage of English people watching internet TV on a tablet doubled from 2012 to 2013, moving to 12% from 6%. On the French-speaking side, 10% of people watched internet TV on a tablet, up from 4% in 2012.
Mobile phone users accessing internet TV also nearly doubled in 2013, with 12% of English-speaking Canadians viewing content that way, up from 7% in 2012. Mobile phone internet TV access for French-speaking Canadians came in at 7% in 2013, up from 4% in 2012.
Netflix adoption amongst English Canadians grew to 29% in 2013 from 21% in 2012. French Canadians had an adoption rate of 7% in 2013 compared with 5% in 2012.
The TV industry as a whole spent $2.7 billion on Canadian programming in 2013, 16% of which went to programs of national interest like dramas, comedies, award shows and documentaries. Private conventional TV stations invested $605 million on Canadian programs.
Pay, specialty, pay-per-view and VOD services invested $1.3 billion on Canadian programs. The CBC invested $701 million in Canadian programming and other public and not-for-profit stations invested $75 million.
Cable and satellite companies contributed $467 million to fund Canadian programming, including programs for Canadian channels.
The production and acquisition of programming is the largest programming expense, according to the CRTC report, representing 63 cents of every dollar of revenue.
Radio:
On the audio side, Canadians were listening to slightly less radio in 2013, 19.3 hours per week compared with 19.6 hours in 2012. Digitally, 20% of Canadians streamed the signal of an AM or FM radio station online and 18% accessed personalized online radio streaming services.
Satellite radio subscriptions remained static for the year, English-speaking Canadians tuned in at a rate of 17% in 2013, up from 16% in 2012. On the French-speaking side 7% subscribed to satellite radio in 2013, the same number as 2012.
In 2013 there were 885 English-language radio and audio services, 244 French-language services and 45 third-language services in Canada. There were 20 new English-language stations approved for the year and five new French-language stations.
Radio revenue came in at $1.6 billion in 2013, remaining steady with last year's numbers. The majority of that revenue was brought in by English-language FM broadcasters, with just over $1 billion in revenue for 2013. French-language FM stations brought in $253 million for the year.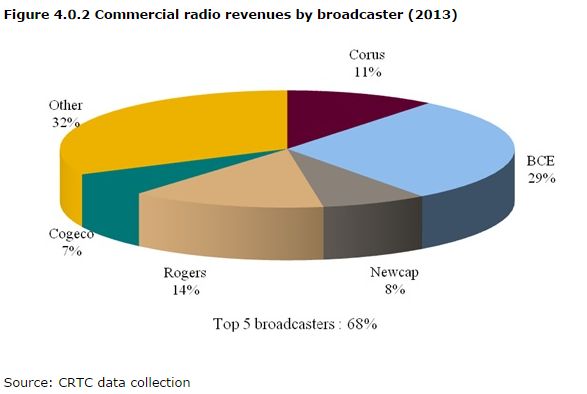 In the coming weeks the CRTC will be issuing additional information from the annual report with details coming on consumer spending on communications services, pricing and international comparisons.
Image courtesy of Shutterstock